3 Easy Pasta Shapes To Make Without A Machine
You must be signed in to print this content
No machine, no problem - you can make these easy pasta shapes by hand!
It's no doubt that pasta machines make the shaping process a whole lot more efficient - but there is something to be said about the rustic, homemade quality of shaping pasta by hand. It turns dinnertime into a craft that everyone can get into - especially kids! - and it's all the more rewarding to eat a dinner that had so much extra love go into it. If you want to try your hand at making some pasta shapes without a machine, go ahead and give
Giada's video
a watch on Instagram - and follow the instructions below!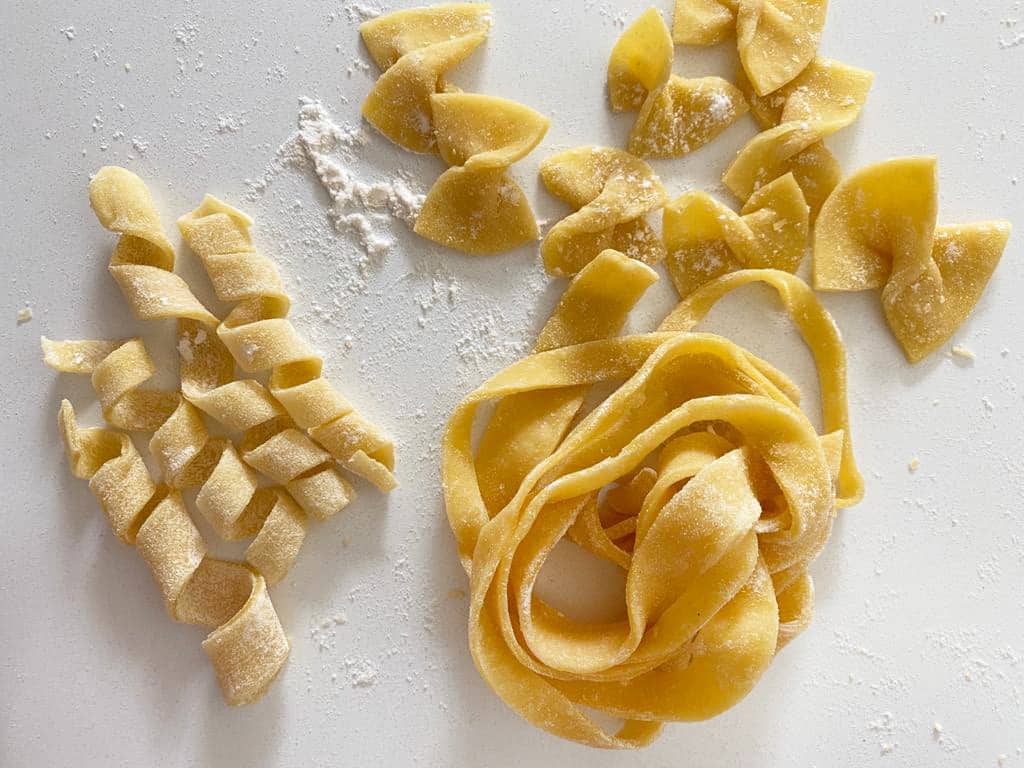 3 Easy Pasta Shapes To Make Without A Machine
Farfalle (AKA, bowtie pasta!)
Farfalle is one of the cutest pasta shapes out there - and it just so happens to be a favorite among kids, too! Turns out, it's super easy to make by hand. Start out with pasta dough that's been rolled as flat as possible. Using a pizza cutter or a knife, cut the dough into small squares, about 1 1/2" wide. Hold on to opposite edges of the square of dough, and twist it so that it makes the bow-tie shape. Press down gently in the center to help the pasta hold its shape. 
Fettuccine (or linguine... or papardelle...)
This one is super easy! Roll out the dough to be as flat as you can make it, and cut even strips of pasta that are about 10 inches long. Depending on how wide you want your noodles to be, you can end up with fettuccine, tagliatelle, linguine... or even a mix of all of them. It's rustic - no judgement! 
Fusilli Avellinesi
This spring-shaped pasta is surprisingly simple to make by hand. Cut tiny strips of pasta dough that are about 3 inches long and a quarter inch wide. Take each strip and wrap snugly around a skewer (or some very thin kitchen object!) in a spiral shape. Slide the shape off once complete, and you'll have a springy little fusilli!
There you have it - 3 super simple pasta shapes you can make by hand! You can check out a few more of our favorite shapes to make in
this video
as well. Remember, the beauty of making pasta from scratch
is 
the imperfections. Have fun with it - and let us know any other shapes you like to make by hand!