Here's How To Make Store-Bought Marinara Sauce Better
You must be signed in to print this content
A little onion, a dash of Calabrian chili pepper- here are Giada's tips to take marinara from good to great!
Let's face it - in a perfect world we'd make homemade pomodoro every night, but in reality, we reach for the jar of store-bought marinara
quite 
often. While there are plenty of good sauces available at the grocery store, we find the need to sometimes amp up the flavor a bit. A bit of extra spice, herbs, cheese - there are all kinds of things you can do to make store-bought marinara sauce better.
First step? Taste it! Each marinara sauce is unique, and depending on the brand or variety, you'll end up with with a wide range of flavors. Some are a little more sweet, some are more herbaceous, some might be a bit more acidic - in the end, it'll be your personal preference that defines what and how much extra love it needs, but worry not, - Giada gave us a general rule of thumb to take and jar of marinara from good to great.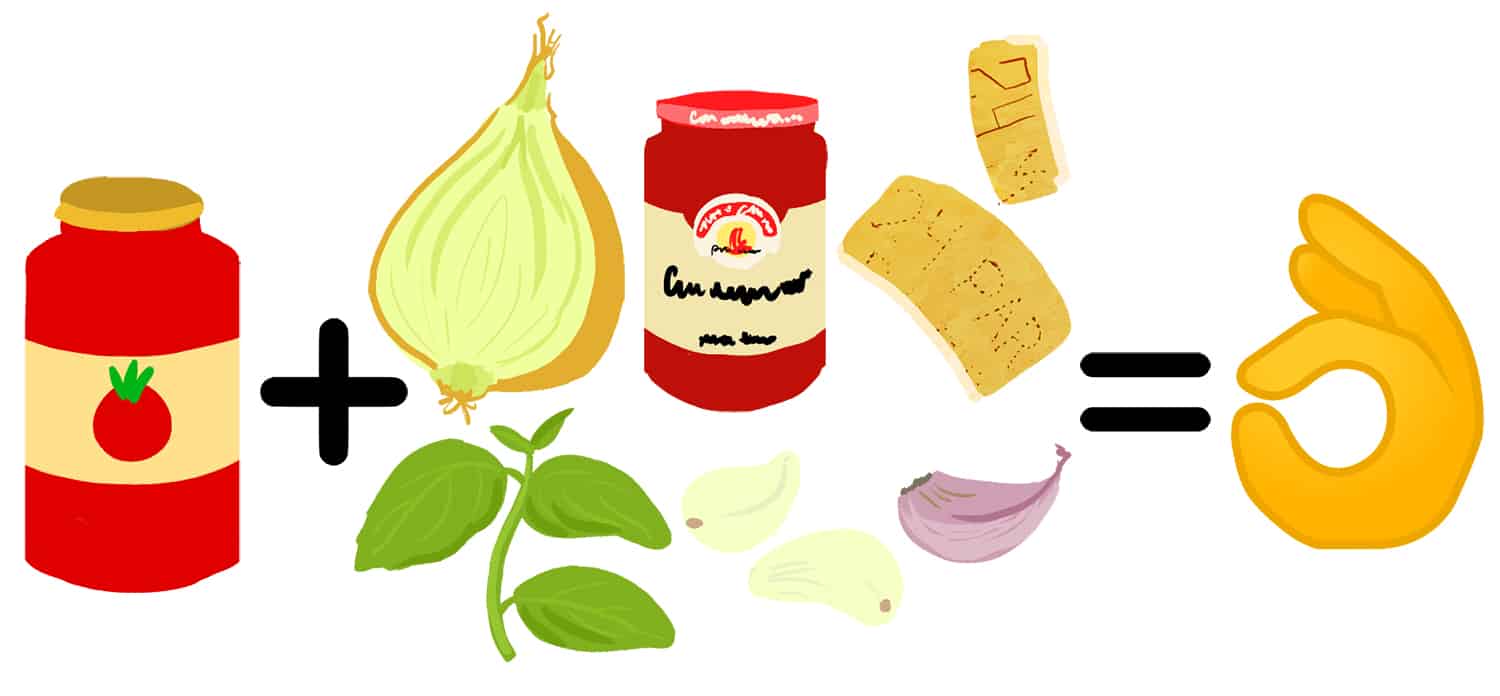 1. Build flavor with garlic and onion.
Fresh garlic and onion go a long way in a dish, especially marinara. Heat up 1-2 tablespoons of olive oil in a pan, and once it's hot, add 1/2 diced onion (a red, yellow or sweet onion will do), and either chopped or smashed garlic cloves. Cook them together until the onions are translucent, and then you can add in some of the marinara sauce and mix together.
2. Break out the parm rinds.
A rind of Parmigiano Reggiano is
one of our favorite ways to add flavor
to sauces, soups and stews.  Just a 1-2 inch simmered for 15 minutes with sauce adds such a rich, salty flavor.
3. Don't forget the basil.
A few sprigs of basil adds that quintessential sweet Italian flavor we all know and love. Add a few sprigs when you add the parm rind, plus a bit of fresh torn or chopped basil at the end for garnish, too.
4. Kick it up with Calabrian chili paste.
It's no secret Giada loves Calabrian chilies, and they pair extremely well with tomato sauce. The beauty of Calabrian chili paste is that while it does add a good amount of heat, it adds great flavor, too. Don't have it? Opt for a hearty sprinkle of red pepper flakes!
5. It's better with butter!
Giada swears by adding a tablespoon of butter to her tomato sauce at the very end. Even a small amount of butter can completely change the texture of the sauce, making it more velvety and creamy!
Buon Appetito!