Author:
Giada De Laurentiis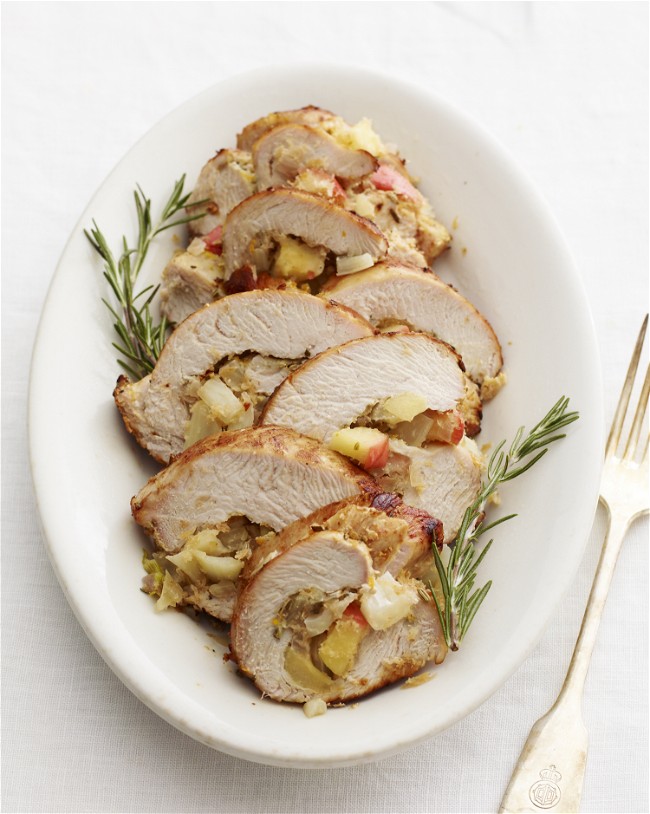 Ingredients
1 1/2 teaspoon fennel seeds (divided)
2 teaspoon kosher salt (divided)
1 teaspoon orange zest (from 1/2 of an orange)
3 1/2 pound boneless (skinless turkey breast,)
butterflied
1/4 cup panko bread crumbs
1/4 teaspoon red pepper flakes
1 small fennel (diced)
1/4 inch
1 shallot (minced)
1 small apple (diced 1/3 inch)
1 tablespoon chopped rosemary (from about 2)
sprigs
Instructions
The day before roasting: Begin by chopping 1/2 teaspoon fennel seed. Mix the fennel seed together with 1 1/4 teaspoon kosher salt and the orange zest. Rub both sides of the turkey with the salt mixture. Place the turkey breast in a gallon plastic storage bag and refrigerate overnight.
The day of roasting: Preheat the oven to 400°F. Remove the turkey breast from the refrigerator and allow it to come to room temperature for 20 minutes before cooking.
Meanwhile, in a 12-inch, ovenproof sautee pan, toast the panko over medium heat, stirring with a rubber spatula until golden brown. Remove to a medium bowl and add the remaining teaspoon fennel seeds, red pepper flakes, and 1/4 teaspoon kosher salt. Set aside. To the same pan over medium-high heat, add 1 tablespoon olive oil. Add the diced fennel, shallot, apple, rosemary, and 1/2 teaspoon kosher salt. Sautee until the fennel softens, about 5 minutes. Add to the bowl with the panko and toss to combine. Wipe out the sautee pan and reserve to sear the turkey.
Place the butterflied turkey breast, opened, in front of you. Spread the filling evenly over the turkey. Roll up the turkey breast to maintain the shape. Tie with twine in four spots about 2 inches apart. Place the sautee pan over medium-high heat and add 2 tablespoons olive oil. Place the turkey breast in the hot pan and sear on all sides until golden brown, about 3 minutes per side. Place the pan in the preheated oven and roast for about 40 minutes, or until an instant read thermometer placed in the thickest part of the breast reads 155°F. Allow the porchetta to rest for 15 minute before slicing.