Roasted Squash with Cherries and Pistachio
You must be signed in to print this content
Roasted Squash with Cherries and Pistachio
Author:
Giada De Laurentiis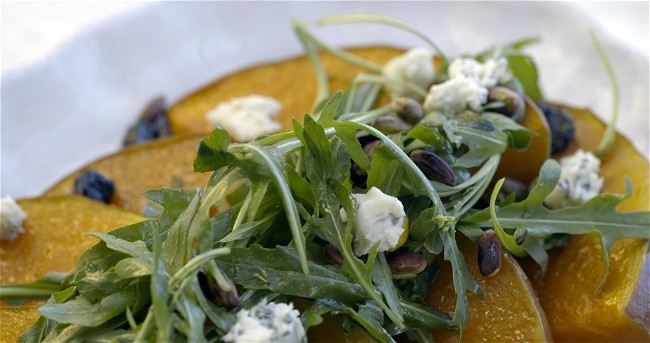 Ingredients
For the dressing:

3 tablespoons white balsamic vinegar
3 tablespoons extra virgin olive oil
1/2 teaspoon kosher salt

For the squash:

2 pounds of acorn squash (cut in half, seeds removed and cut into wedges)
2 tablespoons extra virgin olive oil
1 teaspoon kosher salt
2 sprigs of rosemary
2 cloves of garlic (unpeeled and smashed)

To assemble:

1/4 cup dried tart cherries
1/2 cup roasted pistachios
2 cups baby arugula
2 ounces gorgonzola dolce
Instructions
As seen on: Giada in Italy, Episode 11. Sunday Supper.
Preheat the oven to 400 degrees F.
In a medium bowl, whisk together the vinegar, olive oil and the salt. Set aside.
Place the squash wedges on a rimed baking sheet. Drizzle with the olive oil and 1 teaspoon salt. Add the rosemary sprigs and garlic. Cover the tray tightly with a sheet of aluminum foil. Place the tray in the oven and bake for about 35 to 40 minutes or until the tip of a knife goes into the squash easily. Remove the tray from the oven drizzle 3/4 of the vinaigrette over the squash and allow it to cool and absorb the dressing for about 10 minutes.
To the bowl with the remaining dressing, add the cherries, pistachios and arugula. Toss gently to coat. Place the marinated squash wedges on a platter and top with the dressed greens. Sprinkle with crumbled gorgonzola and serve.
Nutrition
Nutrition
per serving

Calories
1686
Amount/Serving
% Daily Value
Carbs

147 grams

Protein

36 grams

Fat

115 grams

Saturated Fat

24 grams

Cholesterol

43 milligrams

Sodium

4336 milligrams

Fiber

24 grams

Sugar

29 grams