Pumpkin Persimmon Slab Pie
You must be signed in to print this content
Pumpkin Persimmon Slab Pie
Author:
The Giadzy Kitchen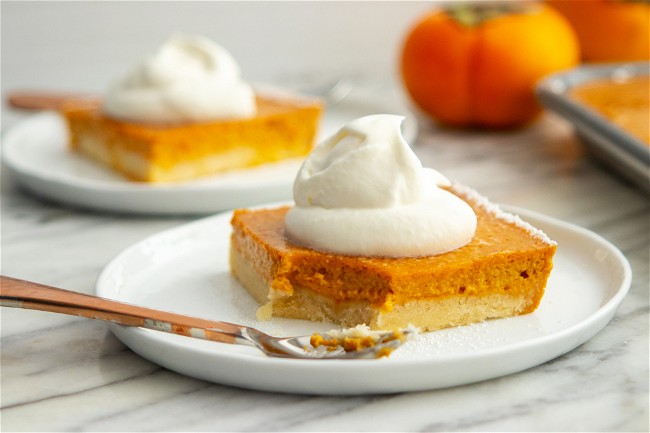 Ingredients
For The Crust:

Vegetable oil cooking spray
2 2/3 cups all-purpose flour
1 cup powdered sugar
1/2 teaspoon fine salt
1 cup 2 sticks chilled unsalted butter, diced
1/3 cup mascarpone cheese (chilled)
3 to 4 tablespoons apricot preserves

For The Filling:

1 15 oz can pure pumpkin puree
Four 6- to 7-ounce ripe Fuyu persimmons (trimmed, peeled and cut into)
1- inch pieces (or 2 cups of persimmon pulp from two 6- to 7-ounce very ripe Hachiya persimmons)
1 cup sugar
2/3 cup mascarpone
2/3 cup heavy whipping cream
2 tablespoons plus 2 teaspoons cornstarch
2 teaspoon ground cinnamon
8 large eggs (at room temperature)
Powdered sugar (for dusting)
Whipped cream (for serving)
Instructions
For the crust:
Preheat the oven to 350 degrees F. Lightly spray a 17x11 inch rimmed baking sheet.
In a food processor (with at least 9 cup capacity), blend the flour, sugar and salt until combined. Add the butter and mascarpone cheese and blend until moist clumps form. Gather the dough into a ball. Drop 2-inch pieces of dough over the bottom and sides of the pie dish. Using moist fingertips press the dough together to form a smooth crust. Using the tines of a fork, prick the dough all over.
Bake the crust until the edge is browned and the center of the crust is pale golden, about 25 minutes. Transfer the crust to a work surface. Brush the bottom of the crust with apricot preserves.
For the filling:
In a food processor, combine the pumpkin and persimmon. Blend until smooth. Add the sugar, mascarpone, cream, cornstarch, cinnamon, salt and eggs. Blend until smooth. Pour the filling into the cooked crust.
Bake the pie until the center is set, about 30 - 35 minutes. Cool the pie on a rack. (Can be made 1 day ahead. Bake and cool to room temperature. Cover loosely with plastic wrap and refrigerate.)
Just before serving, dust the top of the pie with powdered sugar. Cut into squares, dollop with whipped cream if desired, and serve.