You must be signed in to print this content
Author:
Giada De Laurentiis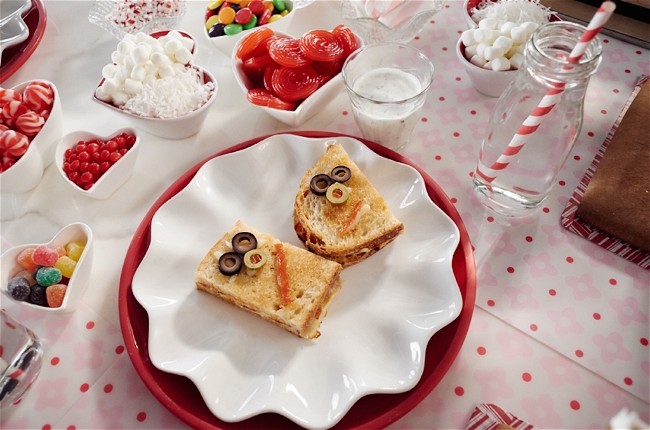 Ingredients
1 cup ricotta
2 cups shredded mozzarella (plus for decorating)
1 1/4 cups freshly grated Parmesan
1/2 cup diced pepperoni (plus 12 large slices and 4 slices for garnish)
2 tablespoons chopped fresh basil
6 tablespoons butter (at room temperature)
12 slices rustic white bread
3/4 cup jarred marinara sauce (plus more for dipping, optional)
36 black olive slices
18 green olive slices
Instructions
As seen on: Giada's Holiday Handbook, Episode 6. Gingerbread House Party.
Preheat the oven to 425 degrees F.
In a medium bowl, using a rubber spatula, mix together the ricotta, mozzarella, 1/2 cup of the Parmesan, the diced pepperoni and the basil until well combined.
Butter one side of each slice of bread. Working buttered side down, spread each slice with 1 tablespoon of the marinara. Divide the cheese mixture among 6 slices of the bread, and sandwich with the remaining slices. For each sandwich, sprinkle the top piece of bread with 1 tablespoon of the remaining Parmesan. Flip, and sprinkle the other side with an additional tablespoon of Parmesan.
To make all of these sandwiches at once, heat 2 baking pans in the oven for 10 minutes. Spray the bottom of one of the pans with cooking spray, and place the buttered and Parmesan-ed sandwiches in the pan. Spray the underside of the second pan, and place it on top of the sandwiches. Bake until golden brown and crispy, and the cheese is melted, 10 minutes.
Cut each sandwich into 3 pieces. Using a few shreds of mozzarella cheese as glue, make a face using the black olive slices as eyes, the green olive slices as a nose, and the pepperoni slices as a mouth. Melt for 4 minutes in the oven to adhere.
Serve with marinara for dipping if desired.
Nutrition
Nutrition
Nutrition Serving Size

12
Amount/Serving
% Daily Value
Carbs

18 grams

Protein

17 grams

Fat

23 grams

Saturated Fat

12 grams

Cholestrol

60 milligrams

Sodium

744 milligrams

Fiber

2 grams

Sugar

3 grams