Pine Nut Ice Cream with Banana Caramel Sauce
You must be signed in to print this content
Pine Nut Ice Cream with Banana Caramel Sauce
Author:
Giada De Laurentiis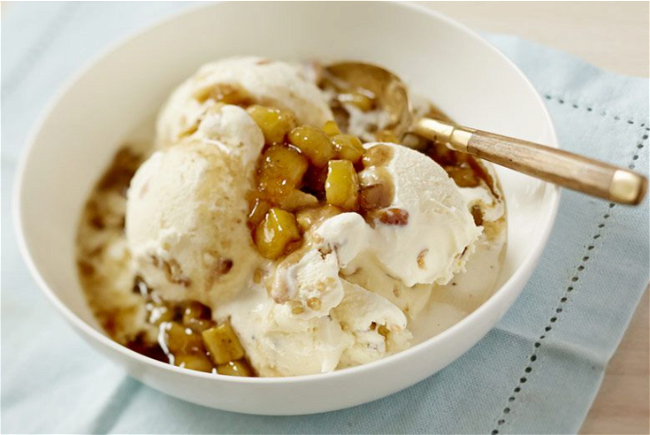 Ingredients
1 quart premium vanilla ice cream (such as)

Haagen-Dazs

1/2 teaspoon kosher salt
5 tablespoons butter
1/3 cup light brown sugar
1/4 cup bourbon
1 ripe banana (diced)
Instructions
Empty the ice cream into a mixing bowl and allow it to sit at room
temperature for about 8 minutes. When it's soft enough to stir with a
wooden spoon or rubber spatula, sprinkle in the pine nuts and 1/4
teaspoon of the salt. Working quickly, fold the pine nuts into the
softened ice cream. Cover the bowl with plastic wrap and place it in
the freezer to firm up.
To make the sauce, combine the butter, brown sugar, bourbon, and
remaining 1/4 teaspoon salt in a medium saucepan. Bring to a simmer
over medium heat, stirring often, until the sugar is completely melted
and the mixture has a caramel-sauce consistency, about 4 minutes.
Reduce the heat to low, stir in the banana pieces and cook for an
additional 3 minutes to just soften them. Remove the pan from the
heat and let the sauce sit at room temperature for about 5 minutes to
cool slightly.
To serve, place 2 scoops of the ice cream in each of the 4 bowls or sundae glasses. Drizzle the sauce over each and serve immediately.