You must be signed in to print this content
Author:
Giada De Laurentiis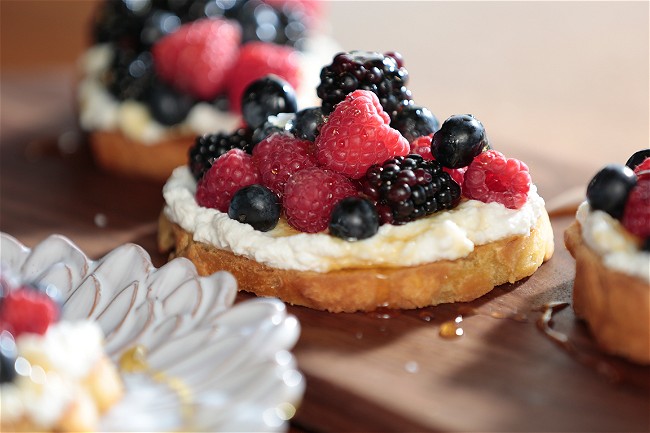 Ingredients
8 angled slices of ciabatta (about 1/4 inch thick)
1/4 cup extra virgin olive oil
1/4 cup sugar (plus 1 tablespoon)
2 cups ricotta cheese (at room temperature)
1/2 teaspoon pure vanilla extract
2 1/2 cups mixed fresh berries or fruit of your choice
honey (to drizzle)
flake salt (to sprinkle)
Instructions
Originally seen on Giada In Italy. Season 2, Episode 1: When In Florence.
Brush both sides of each piece of bread with olive oil and sprinkle evenly with 1/4 cup sugar rubbing it gently in. Preheat a large skillet over over medium heat. Place the sugared bread in the skillet and cook for 2 minutes on each side or until golden brown and caramelized on both sides. Remove to a wire rack to cool.
In a medium bowl, mix together the ricotta, remaining sugar and vanilla with a rubber spatula. Divide evenly among the caramelized toast and spread evenly. Top with the fruit and the toppings.