Grilled Shrimp with Peach Cocktail Sauce
You must be signed in to print this content
Grilled Shrimp with Peach Cocktail Sauce
Author:
Giada De Laurentiis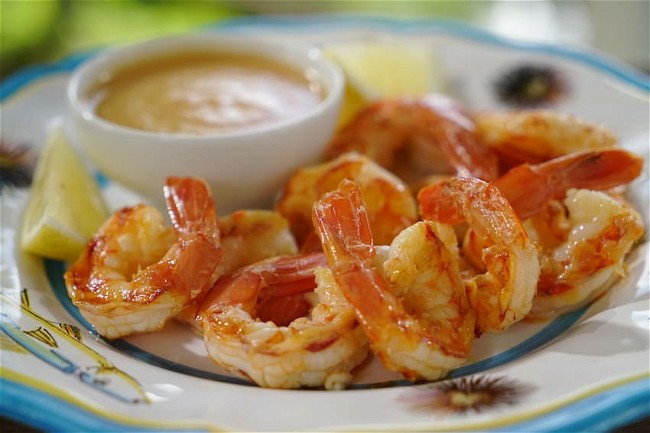 Ingredients
4 almost ripe peaches (peeled and diced)
1/2 cup white wine
1 tablespoon honey
1 tablespoon prepared horseradish (drained)
1 teaspoon kosher salt (divided)
1 pound large shrimp (peeled and deveined)
1 tablespoon olive oil
Lemon juice (for serving)
Instructions
This recipe originated from Giada In Italy. Episode: La Dolce Vita.
In a small sauce pan, combine the peaches and white wine. Bring to a simmer, cover and cook until the peaches are soft, about 10 minutes. Uncover and cook an additional 10 minutes to reduce slightly. Turn off the heat and stir in the honey, horseradish and 1/2 teaspoon salt. Using an immersion blender (or back of a fork) puree or mash the fruit slightly to create a sauce. Cool to room temperature or chill completely for later use (see Cook's Note).
Preheat a grill pan over medium-high heat.
Toss the shrimp with the olive oil and remaining 1/2 teaspoon salt. Place on the hot grill and grill until pink and opaque all the way through, about 3 minutes per side. Finish with a squeeze of lemon juice. Remove to a tray and serve alongside peach cocktail sauce.