Double Chocolate Butter Cookies
You must be signed in to print this content
Double Chocolate Butter Cookies
Author:
Giada De Laurentiis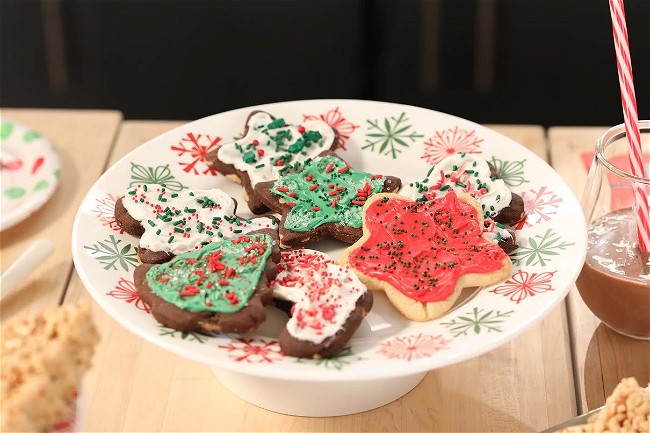 Ingredients
2 sticks (1 cup unsalted butter, at room temperature)
1/2 cup confectioners' sugar
1/4 cup granulated sugar
1/2 teaspoon kosher salt
1/3 cup unsweetened cocoa powder
1 teaspoon pure vanilla extract
1 egg (at room temperature)
1 3/4 cups all-purpose flour (plus more for dusting)
1 cup white chocolate chips
Instructions
This recipe originally appeared on Giada's Holiday Handbook. Episode: Santa's Cookies.
Beat the butter in a large bowl with a hand mixer on medium speed until light and fluffy, about 1 minute. Add the confectioners' sugar, granulated sugar and salt and continue to beat on medium speed until pale and creamy, 2 minutes. Add the cocoa powder, vanilla and egg, mix on low to incorporate. Add the flour, beating on low speed until just incorporated (a few streaks is fine). Switch to a rubber spatula and fold in the chocolate chips.
Turn out the dough onto a large piece of plastic wrap, form into a disk and wrap tightly. Refrigerate until firm, at least 2 hours.
Preheat the oven to 350 degrees F. Line two baking sheets with parchment paper.
Generously dust the dough and work surface with flour. Roll out the dough to a 1/3-inch thickness, if the dough cracks around the edges, simply press it back together. Use cookie cutters to cut out the desired shapes. Place the cookies, 1 inch apart, on the prepared baking sheets.
Bake until just beginning to brown around the edges, 15 to 20 minutes, rotating the baking sheets halfway through.
Cool for 5 minutes on the baking sheets before removing the cookies to a wire rack to cool completely.