Chocolate Sformato with Amaretto Whipped Cream
You must be signed in to print this content
Chocolate Sformato with Amaretto Whipped Cream
Author:
Giada De Laurentiis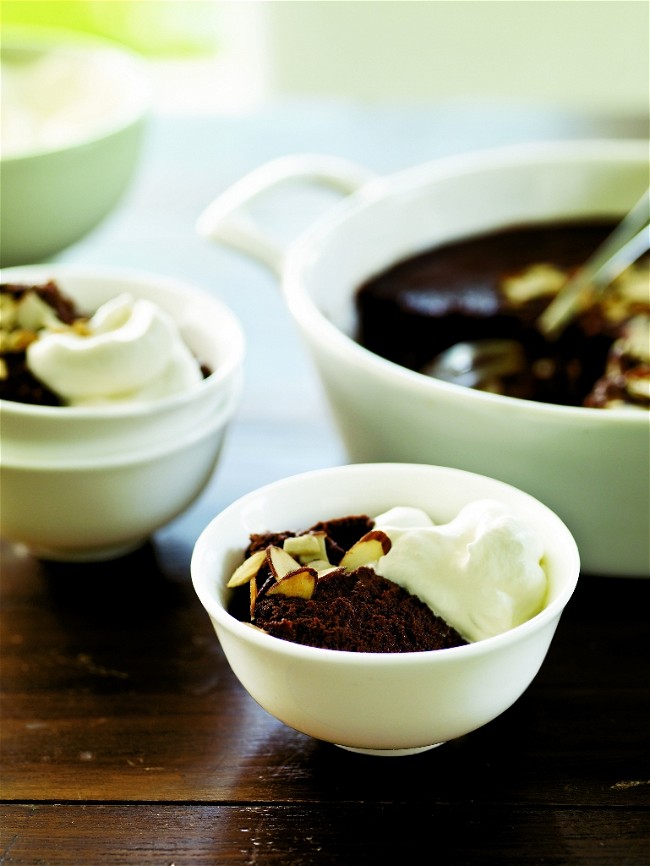 Ingredients
2 cups cold whole milk
1 cup granulated sugar
1 teaspoon pure vanilla extract
1 packet unflavored gelatin
4 eggs (lightly beaten)
1 12-ounce bag bittersweet chocolate chips
¼ cup toasted sliced almonds
1 cup whipping cream
1 tablespoon confectioner's sugar
1 tablespoon almond liqueur such as amaretto
Instructions
This is a chocolate lover's answer to panna cotta. It's quite similar to a mousse, but the gelatin makes it a bit firmer.
Preheat the oven to 350°F. Butter a 2-quart casserole dish.
In a small saucepan, combine 1½ cups of the milk, the granulated sugar, and the vanilla. Bring to a simmer and stir until the sugar is dissolved. Remove from the heat.
In a small saucepan, sprinkle the gelatin over the remaining ½ cup of cold milk and let it dissolve for 2 minutes. Combine the cold milk and gelatin with the hot milk and sugar. (Heat the milk gently if the gelatin is not dissolving easily.
When the gelatin is dissolved, combine the eggs with the warm milk mixture, whisking constantly to avoid scrambling the eggs. Pour the mixture through a fine-mesh strainer into a large measuring cup or small pitcher.
Meanwhile, melt the chocolate over simmering water in a double boiler. When the chocolate is melted, gradually combine the milk-and-egg mixture with the melted chocolate, stirring between each addition to create a smooth chocolate mixture.
Pour the mixture into the prepared dish. Sprinkle the top with the almonds. Place the casserole dish in a larger baking pan or roasting pan and add the hot water to the larger pan until the water comes halfway up the sides of the casserole dish. Place both pans in the oven and bake the panna cotta until the sides are firm and the center just jiggles slightly, about 1 hour. Remove from the oven and let cool for at least 30 minutes.
Just before serving, whip the cream to soft peaks in a medium bowl using a whisk or electric hand mixer. Add the confectioners' sugar and almond liqueur and whip to combine. Spoon the panna cotta into individual serving bowls and dollop the top with the almond whipped cream.
Nutrition
Amount/Serving
% Daily Value
Carbs

43 grams

Protein

9 grams

Fat

25 grams

Saturated Fat

12 grams

Cholesterol

171 milligrams

Sodium

92 milligrams

Fiber

1 grams

Sugar

40 grams