Lentil Burgers with Lemon-Basil Mayonnaise
You must be signed in to print this content
Lentil Burgers with Lemon-Basil Mayonnaise
Author:
Giada De Laurentiis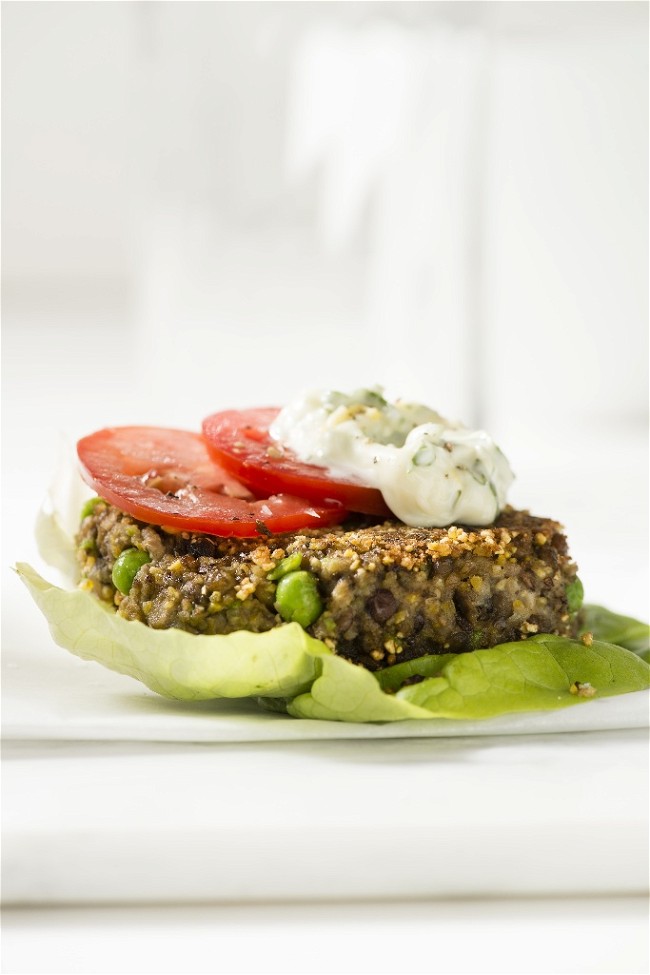 Ingredients
For the Burgers:

½ cup extra-virgin olive oil
2 large shallots (minced)
1½ teaspoons kosher salt
½ teaspoon freshly ground black pepper
2 garlic cloves (minced)
4 ounces button mushrooms (about 6, finely diced)
2 tablespoons chopped fresh thyme leaves
½ cup frozen petite green peas (thawed)
2 15-ounce cans lentils, rinsed and drained
½ cup plus ½ cup cornmeal
2 tablespoons egg-free mayonnaise (such as Vegenaise)
1 tablespoon fresh lemon juice

For the Lemon-Basil Mayonnaise:

1 cup refrigerated egg-free mayonnaise (such as Vegenaise)
½ cup chopped fresh basil leaves
Grated zest of 1 large lemon
1 head butter lettuce (leaves separated)
2 plum tomatoes (thinly sliced)
Instructions
For the burgers:
In a 12-inch nonstick skillet, heat ¼ cup of the oil over medium-high heat. Add the shallots, ¾ teaspoon of the salt, and ¼ teaspoon of the pepper. Cook until soft, about 3 minutes. Add the garlic, mushrooms, thyme, the remaining ¾ teaspoon salt, and the remaining ¼ teaspoon pepper. Cook until the mushrooms are soft, 6 to 8 minutes. Set aside to cool slightly.
In a food processor, puree the peas and half of the lentils until smooth. Transfer to a medium bowl. Add the remaining lentils, 1/3 cup of the cornmeal, the mayonnaise, lemon juice, and the mushroom mixture. Form the mixture into 6 (3-inch-thick) patties.
Sprinkle ¼ cup of the remaining cornmeal on a baking sheet. Put the formed patties on top of the cornmeal. Sprinkle the remaining ¼ cup cornmeal on top of the patties. Refrigerate for at least 30 minutes.
Heat the remaining ¼ cup oil in the same skillet over medium heat. Add the patties and cook until golden brown, 4 minutes per side.
For the lemon-basil mayonnaise:
In a small bowl, mix together the mayonnaise, basil, and lemon zest until smooth. Smear the mayonnaise on the lentil burgers. Serve over the lettuce and tomato slices.
Nutrition
Amount/Serving
% Daily Value
Carbs

20 grams

Protein

4 grams

Fat

46 grams

Saturated Fat

6 grams

Sodium

828 milligrams

Fiber

4 grams

Sugar

3 grams