Chocolate Cherry Shortbread Cookies
You must be signed in to print this content
Chocolate Cherry Shortbread Cookies
Author:
Giada De Laurentiis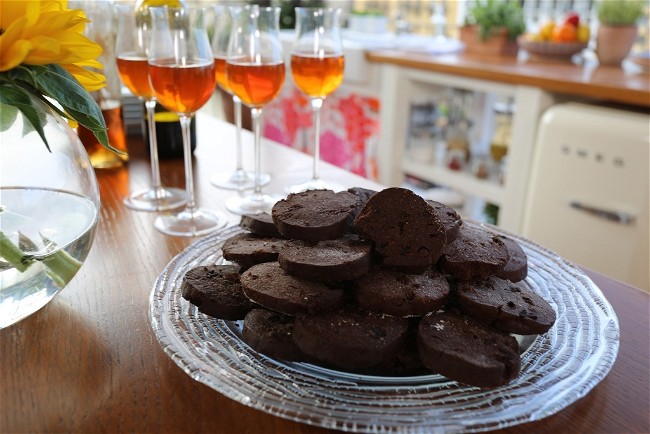 Ingredients
1 1/2 cups all-purpose flour
1/3 cup unsweetened cocoa powder
1/2 teaspoon pink peppercorns (crushed)
1/2 teaspoon kosher salt
1 1/2 sticks (12 tablespoons unsalted butter, at room temperature)
1/3 cup plus 2 teaspoons sugar
2 egg yolks (at room temperature)
1/4 cup dried cherries (chopped)
1/4 cup semisweet chocolate chips
Instructions
As seen on: Giada In Italy Episode 1. Tuscan Lunch: An Affair of the Heart.
In a medium bowl, whisk together the flour, cocoa powder, pink pepper and salt. Set aside.
Place the butter and 1/3 cup sugar in a large bowl and beat with an electric mixer until light pale and fluffy, about 2 minutes. Add the egg yolks and beat for an additional minute. In two additions, add the flour mixture, beating on low speed until just combined between additions. Pulse in the dried cherries and chocolate chips.
Place a piece of plastic wrap on a clean, dry surface. Transfer the cookie dough to the plastic wrap, form into a 2-inch-wide log, and wrap tightly. Refrigerate for at least 1 hour.
Preheat the oven to 350 degrees F.
Using a sharp, thin knife, cut the log into 1/3-inch-thick rounds. Set the cookies on an ungreased baking sheet, spaced 1 inch apart, and sprinkle evenly with the remaining 2 teaspoons sugar.
Bake until just set, 25 minutes. Cool the cookies completely on the baking sheet before removing to a wire rack.