You must be signed in to print this content
Whether it's in the pasta or outside of it, these spinach pasta recipes are both molto bene.
In Italy, spinach and pasta are used together frequently - whether it's mixed with ricotta and used as a ravioli filling or layers in lasagna, used in sauces, or to color pasta dough, pasta and spinach is a common culinary union. Even if just a few leaves are tossed in at the end of cooking a pasta dish, it's a marriage we know and love. 
Consider this your introduction to two spinach pastas we love - they're as delicious as they are green.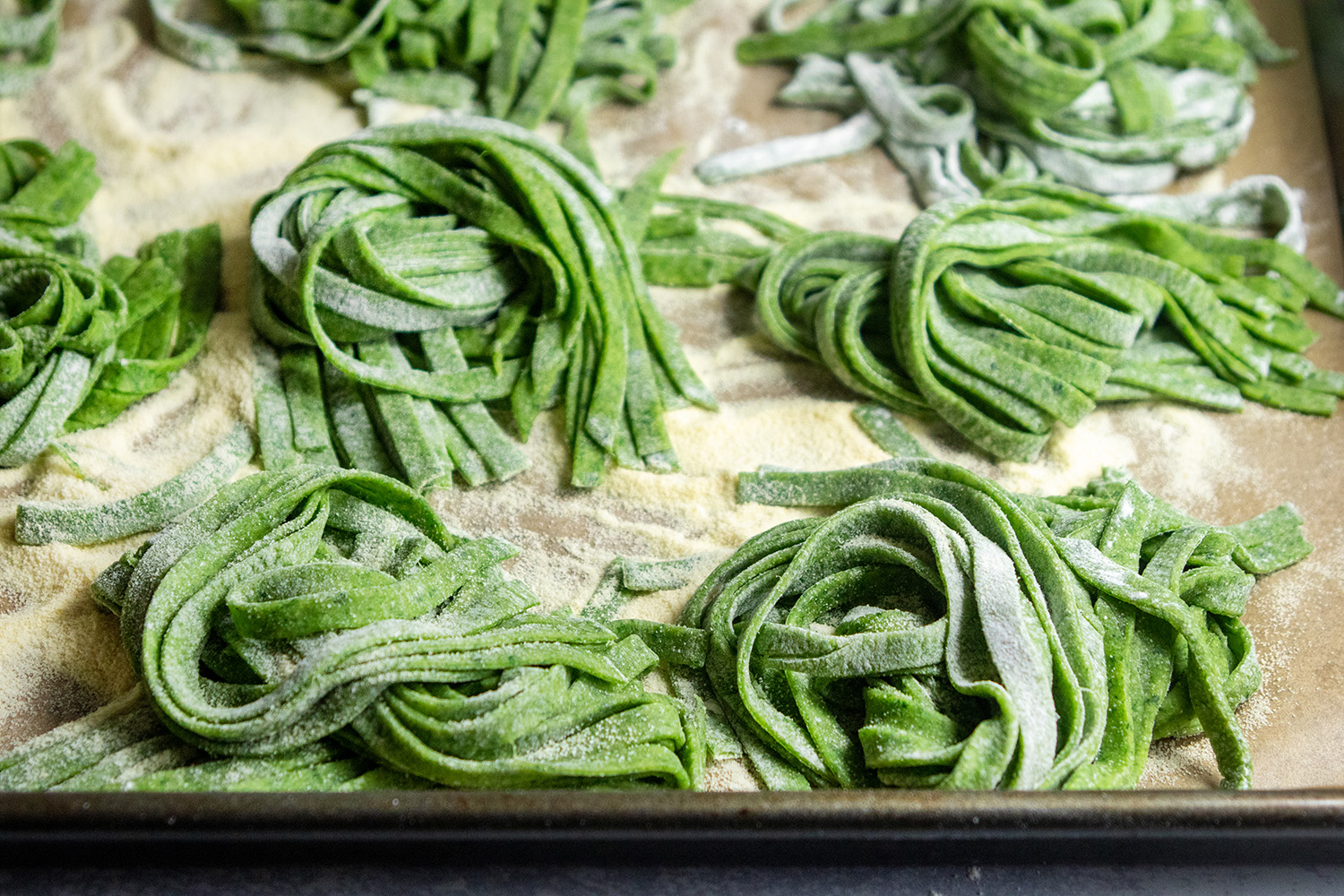 Spinach-Dyed Pasta Dough
This bright, verdant green homemade pasta dough isn't just a spectacle to look at - it's packed with nutrients and naturally dyed with spinach. In Italy, this pasta dough is known as
la pasta verde. 
Spinach is the most common ingredient to get that beautiful green color, though sometimes other dark leafy greens can be used.
Make a quick spinach puree (it really just takes a few minutes) and fold that into Giada's classic pasta dough for a richly hued, vibrant dough. Serve it up simply to showcase that color - we recommend some fresh mozzarella and cherry tomatoes to bring the Italian
tricolore 
theme home. You can also layer this into lasagna to make a 
lasagna verdi,
as a tortellini or ravioli wrapper for 
tortellini verdi 
or 
ravioli verdi... 
you get the gist!
Pasta With Spinach Sauce
You can get that beautiful green hue from spinach without making dough from scratch, of course - and this dish is the proof.
A quick spin in the food processor of spinach, garlic, goat cheese and seasonings makes an amazing sauce for this pasta. What to do with the rest of that tub of spinach, though? Toss the rest of the leaves right in. This bright green dish will steal the show at any table.
Tap below for the recipes, and let's get cooking.
[mv_video doNotAutoplayNorOptimizePlacement="false" doNotOptimizePlacement="false" jsonLd="true" key="nl8dlj02fxsfjbkrjkf6" ratio="16:9" thumbnail="https://mediavine-res.cloudinary.com/v1651616645/dlwjpfyuptwl5culxesc.jpg" title="Green Spinach Pasta DoughSpinach" volume="70"]