You must be signed in to print this content
Whether you have fresh or dried herbs, use these 3 easy methods to strip them off the sprig!
Here on Giadzy,
we stock our online pantry with dried herbs
- but not just any dried herbs! These herbs from Italy are dried right on the sprig, which ensures the highest quality of freshness. However, picking off individual bits of herb can be tedious, so we tested 3 viral ways to strip herbs. Lo and behold, they all worked!
These methods work beautifully for fresh herbs, too! Scroll to check out our reviews of these 3 hacks, all starring our
organic Sicilian oregano sprigs
as the guinea pig!
The Cheese Grater
8/10

This method is most effective in 100% stripping every bit of the herb off the sprig, but the herbs can fly all around, so be sure to put a piece of parchment or a sheet pan under your workspace. It can be a bit awkward to stabilize the grater while pulling the herbs, but regardless, it still works great!
The Fork
9/10

Another great method, this simply consists of pulling the herbs through the tines of the fork. A benefit is that on most forks, the space between the tines changes in width from top to bottom, so you can customize where you're pulling from based on how thick the herb sprig is. The only downside is that the herbs can go all over the place!
The Colander
10/10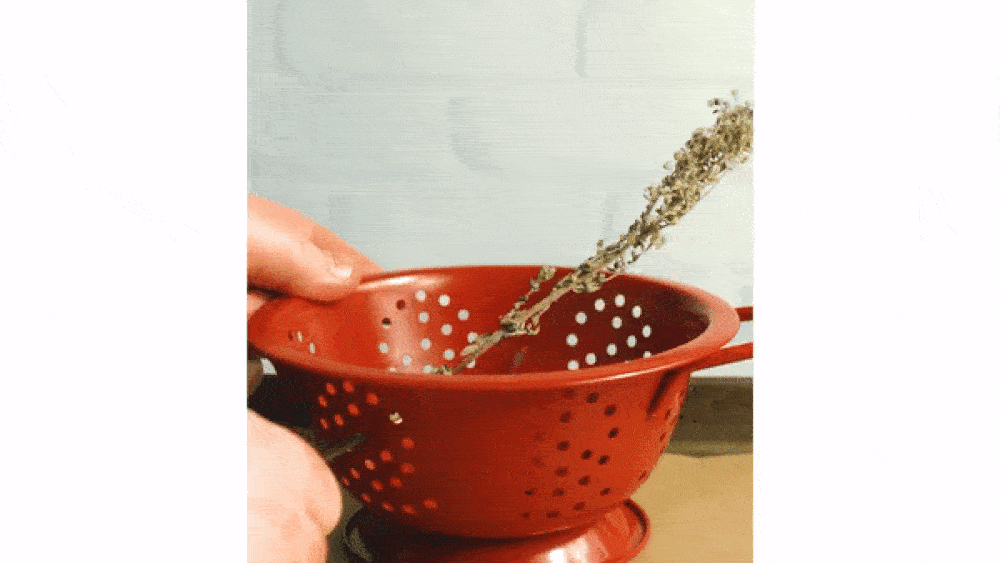 Our favorite method! Simply string the sprig of herbs from the inside of the colander and pull from the outside. The beauty of this method is that all the bits of herb conveniently get caught in the colander - less mess!