Savory Red Pepper Cheesecake
You must be signed in to print this content
Savory Red Pepper Cheesecake
Author:
Giada De Laurentiis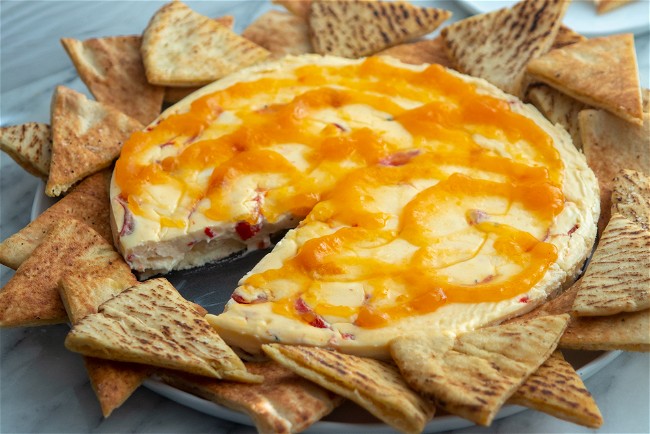 Ingredients
1/2 cup ricotta cheese (4 ounces)
1/2 cup cream cheese (4 ounces)
1/4 cup goat cheese (2 ounces)
1 tablespoon sugar
1 egg
Pinch kosher salt
1/2 cup thin strips roasted red bell peppers
4 pitas
2 tablespoons olive oil
Kosher salt and freshly ground black pepper
1/4 cup apricot jam
1 to 2 teaspoons hot water
Special equipment: 1 (4 1/2-inch diameter springform (cheesecake) pan)
Instructions
Preheat the oven to 350 degrees F.
Wrap the outside of the cheesecake pan with 2 layers of heavy-duty foil. Place the ricotta, cream cheese, and goat cheese in a food processor. Pulse to mix. Add the sugar, egg, and salt and pulse a few times until well mixed. Stir in the red pepper strips.
Pour the cheese mixture into the cheesecake pan. Place the cheesecake pan in a roasting pan. Pour enough hot water in the roasting pan to come halfway up the sides of the cheesecake pan. Bake until the cheesecake is golden at the edges and the center of the cake moves slightly when the pan is gently shaken, about 45 minutes (the cake will become firm when it is cold.)
Transfer the cake to a wire rack to cool for 1 hour. Refrigerate until the cheesecake is cold, at least 3 hours and up to 2 days.
To make the pita chips, preheat the oven to 350 degrees F.
Cut the pitas into 8 triangles each (like a pie). Drizzle the pita with olive oil, and sprinkle with salt and pepper. Bake until crisp and golden, about 12 to 15 minutes.
To serve, combine the jam and the water in a small bowl and stir until the jam is liquefied. Remove the cheesecake from the springform pan. Place on a serving plate. Drizzle the jam mixture over the top of the cheesecake. Serve with the pita chips alongside.
Nutrition
Nutrition
Nutrition Serving Size

6
Amount/Serving
% Daily Value
Carbs

31 grams

Protein

8 grams

Fat

16 grams

Saturated Fat

7 grams

Cholestrol

60 milligrams

Sodium

275 milligrams

Fiber

2 grams

Sugar

10 grams