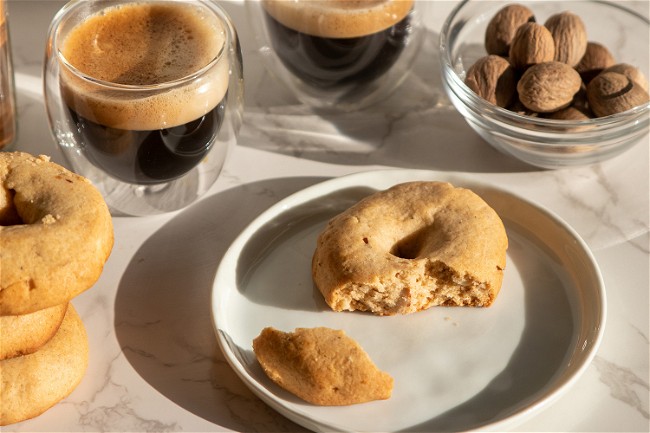 Ingredients
½ cup (1 stick) unsalted butter, at room temperature
1/2 cup granulated sugar
1/2 teaspoon vanilla extract
1 large egg
3/4 cup almond flour, firmly packed
½ teaspoon baking powder
½ teaspoon kosher salt
1/2 teaspoon cinnamon
1/4 teaspoon ground nutmeg
1/4 teaspoon ground cloves
½ cup sliced almonds
Instructions
Preheat the oven to 350 degrees.
In a standing mixer fitted with a paddle attachment, combine the butter and sugar. Beat on medium speed until pale, light and fluffy. Add the vanilla extract, honey and egg. Beat again for 1 minute. Add the flour, almond flour, baking powder, salt, cinnamon, nutmeg and cloves, and mix on low speed until just combined. Add the sliced almonds and stir to evenly disperse through the dough.
Turn the mixture onto a very lightly floured surface. Cut the dough into 15 equal pieces. Roll each piece into a 5 inch rope. Form each rope into a circle and place 7 to 8 cookies on each of the prepared baking sheets.
Bake until the cookies are puffed and develop a golden brown color, about 20 to 25 minutes. Cool on the trays for at least 10 minutes before eating. The cookies will get more crisp as they cool.
Nutrition
Nutrition
Nutrition Serving Size

15
Amount/Serving
% Daily Value
Carbs

23 grams

Protein

4 grams

Fat

11 grams

Saturated Fat

4 grams

Cholestrol

29 milligrams

Sodium

81 milligrams

Fiber

1 grams

Sugar

12 grams