You must be signed in to print this content
Category
Appetizer Main Course Salad
Author:
Giada De Laurentiis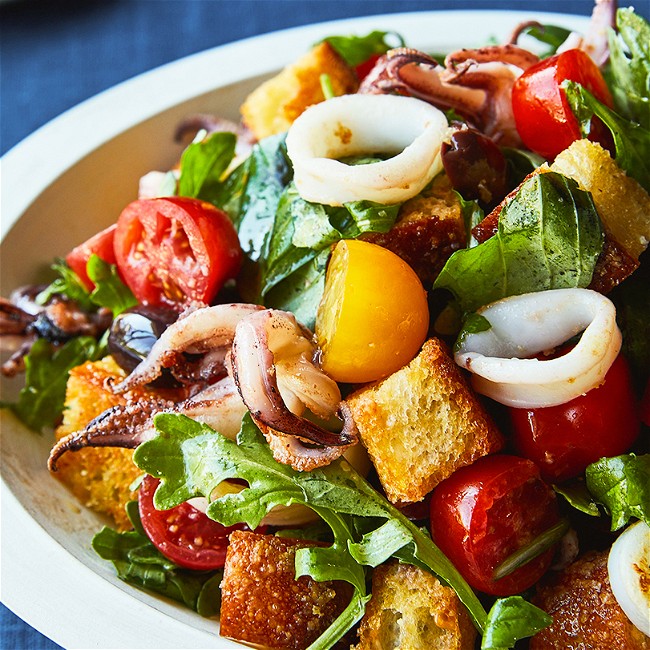 Ingredients
1 pound cleaned calamari
6 tablespoons olive oil
2 garlic cloves, (smashed and peeled)
1/2 teaspoon plus 1/8 teaspoon kosher salt
1/4 teaspoon crushed red pepper flakes
2 1/2 tablespoons fresh lemon juice
4 cups stale bread, (cut into 1-inch cubes)
1/2 cup freshly grated Parmigiano-Reggiano
2 cups cherry tomatoes, (halved)
1/2 cups pitted kalamata olives, (halved)
3 cups baby arugula
1/2 cup fresh basil leaves
1/3 cup extra-virgin olive oil
Instructions
Rinse the calamari, making sure the bodies are cleaned and the cartilage is removed. Pat dry with paper towels. Slice the bodies into 1/2-inch rings and leave the tentacles intact.
Heat 2 tablespoons of the olive oil in a large skiller over medium-high heat until a whisper of smoke comes off the pan. Add the garlic and cook just for 30 seconds. Add the calamari, 1/4 teaspoon of the salt, and the red pepper flakes to the skillet. Cook, stirring often, for 1 to 2 minutes, or until the calamari is opaque. Be careful not to overcook it. Using a slotted spoon, remove the calamari to a plate and drizzle with 1 tablespoon of the lemon juice.
Preheat the oven to 400 degrees F.
In a medium bowl, combine the bread cubes, the remaining 4 tablespoons olive oil, 1/4 teaspoon kosher salt, and the Parmigiano-Reggiano, mix well to coat. Scatter the cubes on a rimmed baking sheet and bake for about 12 minutes, or until golden brown and crispy. Return the toasted cubes to the bowl and add the tomatoes, olives, and arugula.
Tear the basil into small pieces and add it ot the bowl. Drizzle the remaining 1 1/2 tablespoons lemon juice and the extra-virgin olive oil around the edge of the bowl and toss well to marry all the ingredients. Add the calamari to the salad along with the remaining 1/8 teaspoon salt. Toss once more and serve.
Nutrition
Amount/Serving
% Daily Value
Carbs

16 grams

Protein

25 grams

Fat

47 grams

Saturated Fat

8 grams

Trans Fat

1 grams

Cholesterol

273 milligrams

Sodium

601 milligrams

Fiber

2 grams

Sugar

3 grams

Unsaturated Fat

37 grams