You must be signed in to print this content
Author:
Giada De Laurentiis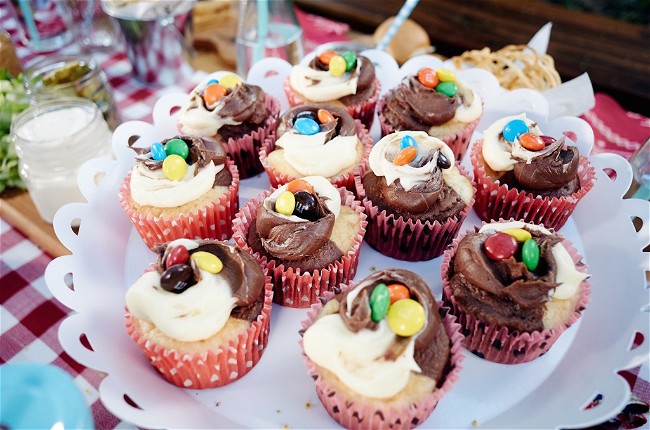 Ingredients
One 15.25-ounce box vanilla cake mix
3 large eggs (at room temperature)
1/2 cup low-fat Greek yogurt (such as Fage)
2 tablespoons all-purpose flour
3/4 cup unsweetened cocoa powder
4 sticks (1 pound unsalted butter, softened)
6 cups confectioners' sugar
2 teaspoon pure vanilla extract
1 teaspoon kosher salt
72 M&amp,M's
Instructions
As seen on: Giada Entertains, Episode 4. Family Fun Day.
Preheat the oven to 350 degrees F. Line 24 muffin cups with cupcake liners.To a medium bowl, add the cake mix, eggs, yogurt, flour and 1 cup water. Using a hand-held mixer, beat the mixture until completely smooth and fluffy, about 2 minutes. Remove half of the batter to a separate bowl. To one of the bowls of batter, add 1/4 cup of the cocoa powder and continue to mix until combined, about a minute more.
Using a 1-tablespoon ice cream scoop, scoop 1 heaping tablespoon of the vanilla batter onto one side of all of the muffin cups. Scoop a heaping tablespoon of the chocolate batter right next to the vanilla scoop so it is half chocolate, half vanilla. Bake until a toothpick inserted in the middle of a cupcake comes out clean, about 15 minutes. Cool for 5 minutes in the tin and then remove the cupcakes to a wire rack to cool completely.
Meanwhile, place the butter, confectioners' sugar, vanilla and salt in a large bowl. Using a hand-held mixer, beat the mixture on medium-high speed for 3 minutes. Remove half of the frosting from the bowl and reserve as vanilla. Fold the remaining 1/2 cup cocoa powder into the remaining half of the frosting.
Using a rubber spatula, spoon the vanilla frosting into a resealable plastic baggie or a pastry bag. Spoon the chocolate into a separate bag. Snip the tips of the bags and pipe the frosting in two spirals on top of the cooled cupcakes. Swirl the tops with a spoon. You should get a little of each flavor on each cupcake! Top each cupcake with 3 M&amp,M's. Store, covered, at room temperature.