Ciao, Wine Country! Bobby And Giada In Italy, Episode 4
You must be signed in to print this content
In Episode 4 of Bobby and Giada In Italy, the duo experience more of Tuscan's amazing culinary specialties - including the wine!
While there is so much goodness to be found in Tuscany, in the form of food and agriculture and architecture, there's one thing you gotta do - try the wine. "Some of the best red wine in the world is produced here." says Giada.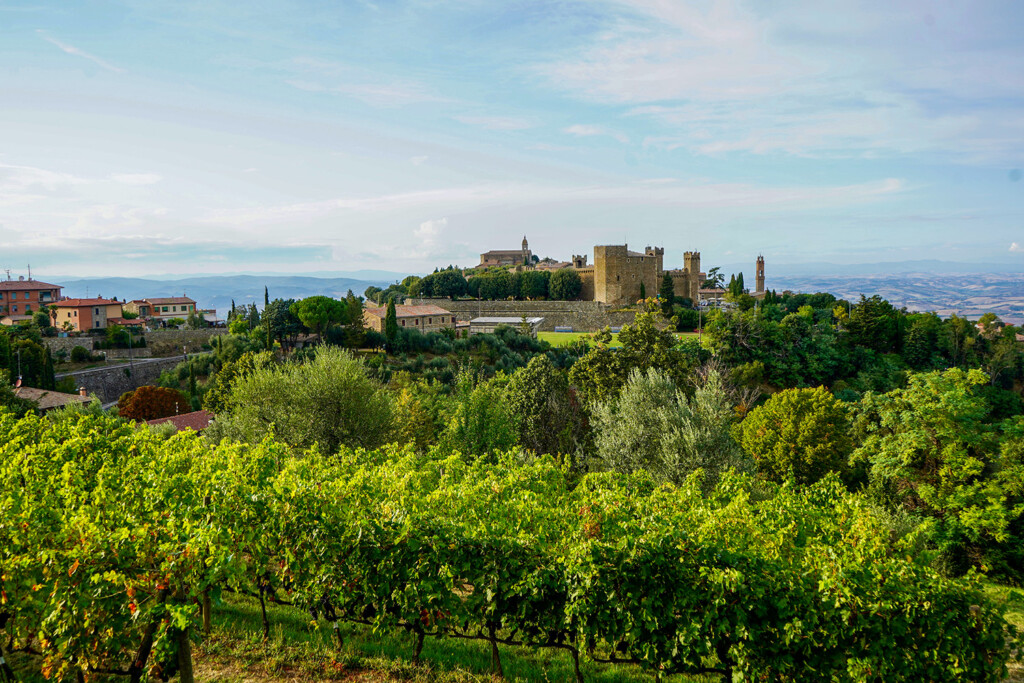 For their last week in Tuscany (and final episode!!) Bobby and Giada stayed in a beautiful villa overlooking a medieval town called Montalcino. Vineyards to your left, castles to your right, what's not to love? Montalcino is about 30 miles south of Siena, and it's famous for its incredible wine. 
The two head to the town to do a bit of shopping. While the town of Montalcino may be best known for their Brunello wine, another regional "specialty" are their linens. Giada heads to
564 Via Del Popolo
for a Tuscan-style table runner. The classic choice in Tuscany is a natural-hued linen - something to note if you ever throw a Tuscany-inspired dinner party!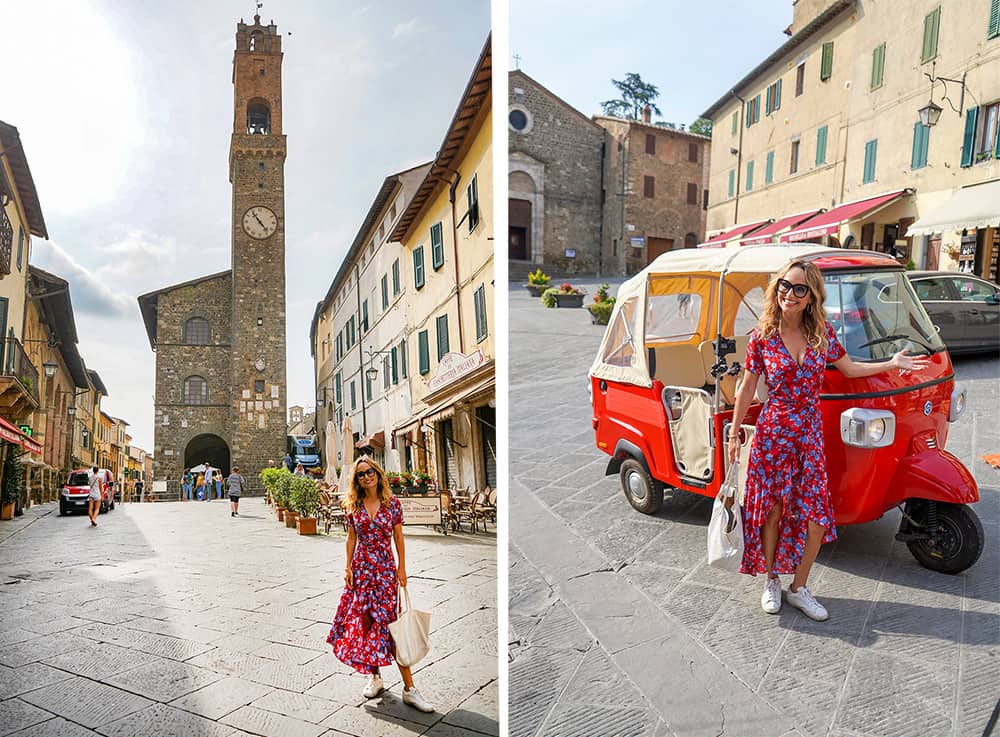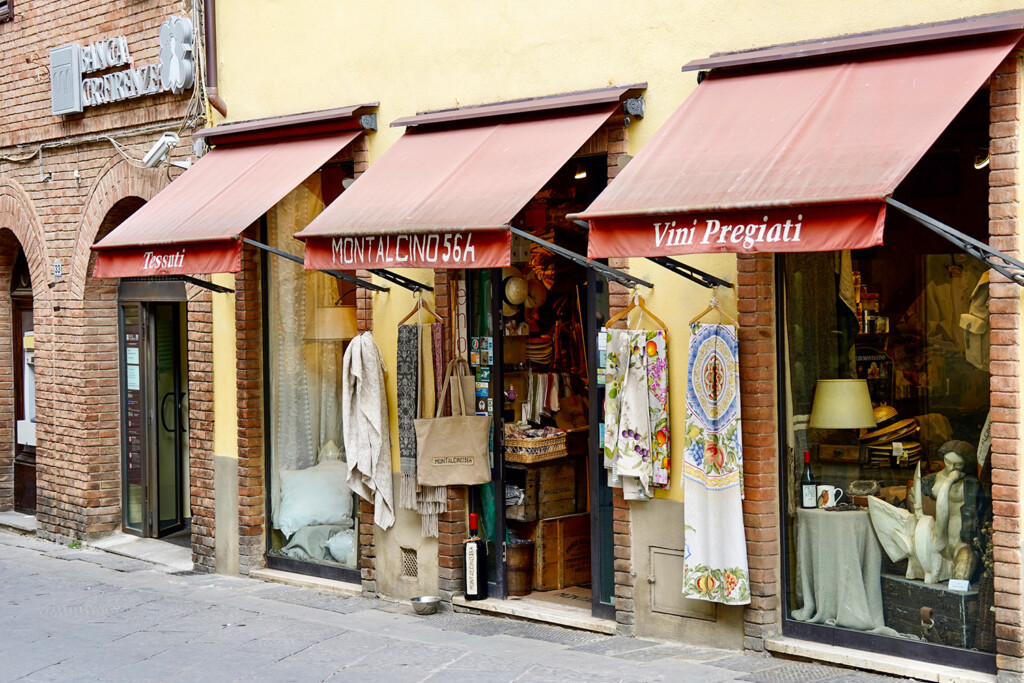 After their day of shopping, we get a glimpse of Bobby and Giada's morning routines. While Giada starts the day with some yoga (with the most incredible view 
ever
) Bobby whips up a Tuscan-inspired breakfast: mushroom polenta, crispy prosciutto, a red wine poached egg and arugula.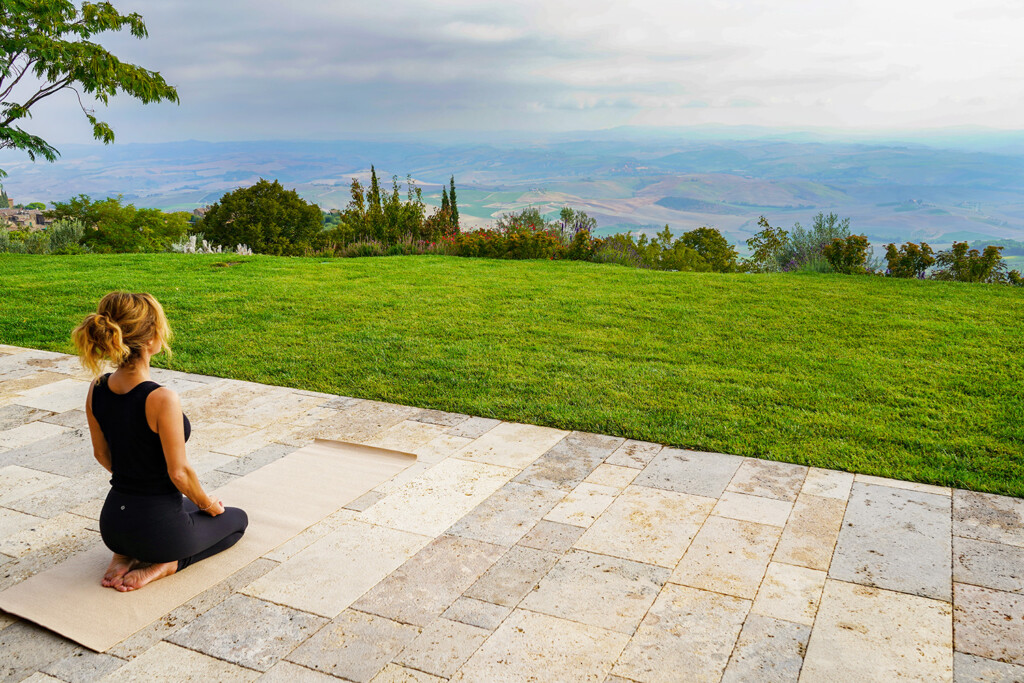 There's another regional specialty in Montalcino - the honey. They produce more honey than any other township in Italy! Both Giada and Bobby use a lot of honey in their cooking, so visiting a local beekeeper was a must. They visit a family-run agriturismo called
Villa Cipressi
, and it's definitely a hands-on visit. After a tasting of all of the honey, which have completely different flavors and textures depending on the plants the bees are pollinating, Bobby and Giada get fitted in their beekeeper suits to go see how it's done.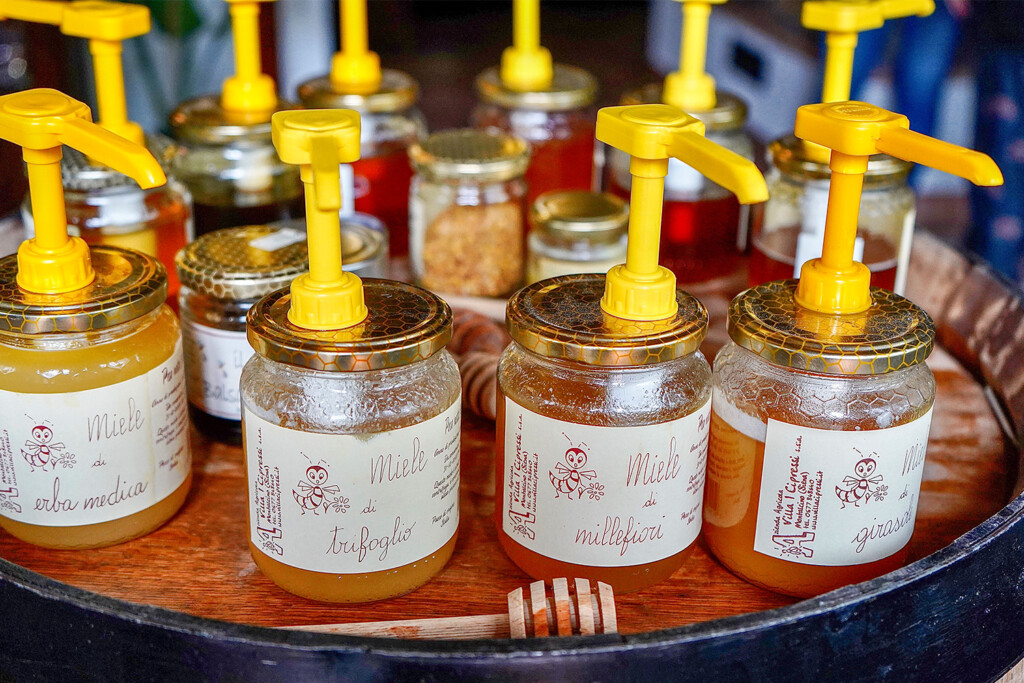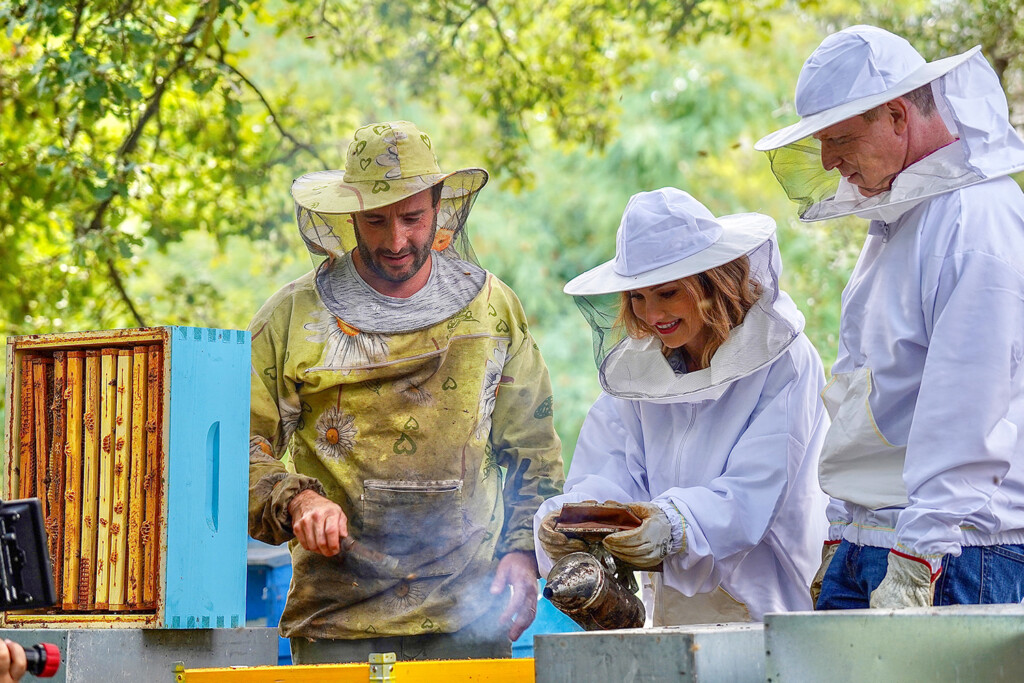 One of the most fascinating aspects of Tuscan culture is how locals prioritize keeping their agriculture roots alive. This is further exemplified in Giada's next visit to
Locanda Demetra
cooking school and restaurant right outside of Montalcino, run by Alessandro and Emanuela Bruzzone. They took an abandoned patch of land and turned it into an amazing farm-to-table experience - they use produce from their own gardens, eggs from their own chickens, and wine right from Montalcino. A chef's dream come true, honestly! Giada crashes a cooking class at Locanda Demetra, and they make a jam from Brunello wine along with some fresh pasta colored pink from their own beetroots.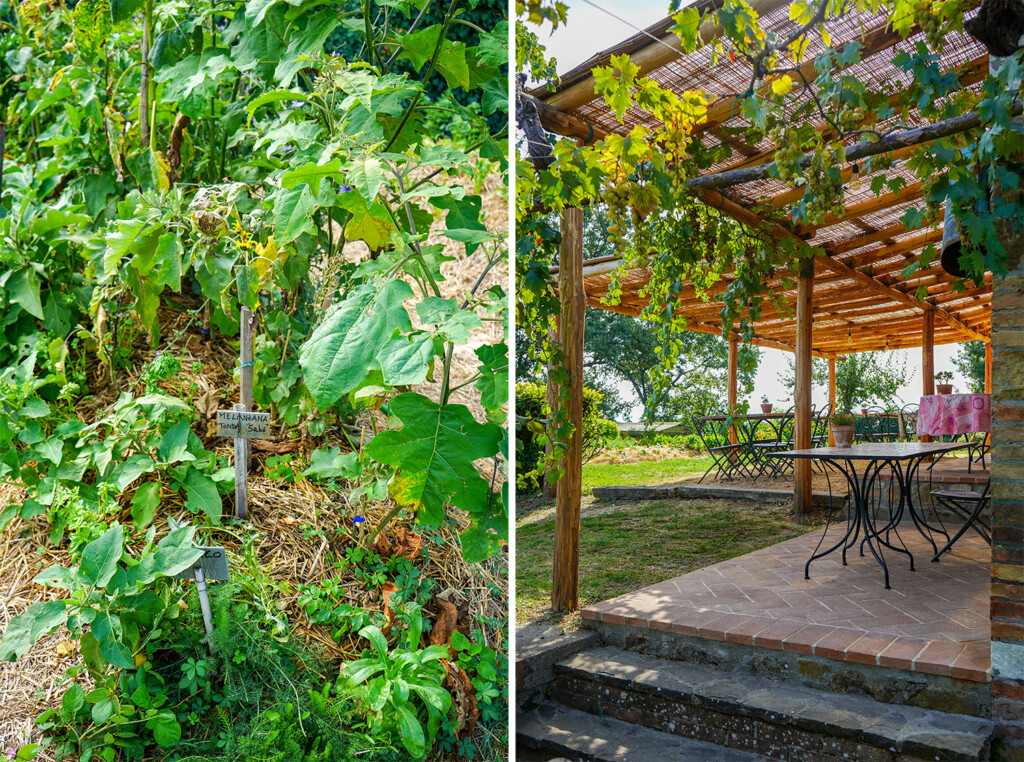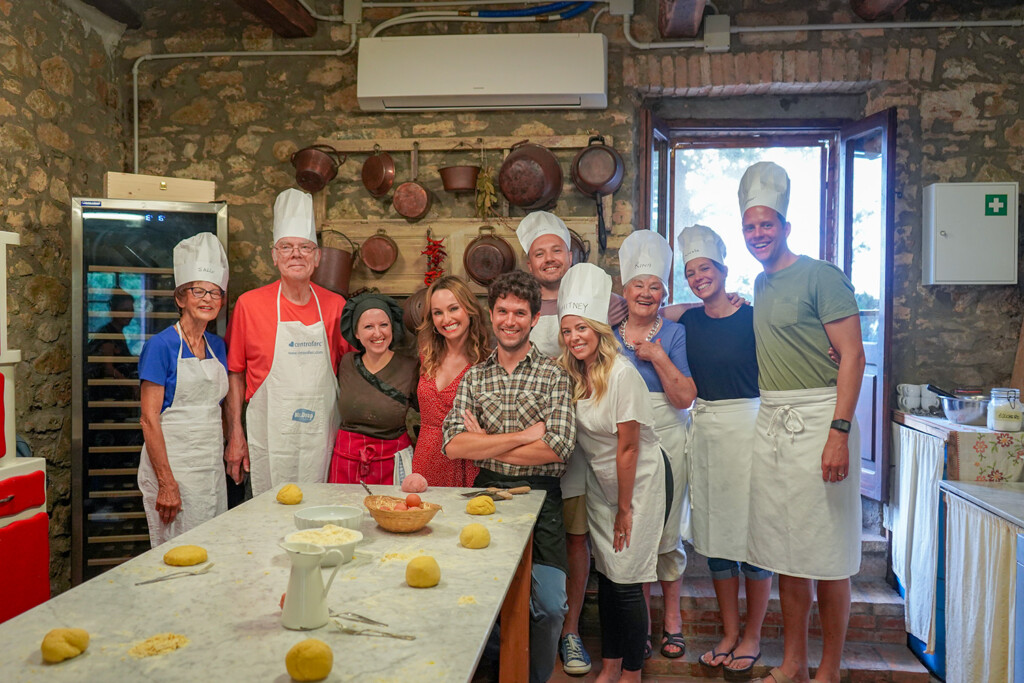 While Giada cooks, Bobby checks out another big part of Tuscan culture - the cattle. He heads to La Toraia Chianina, a family-run ranch that has been breeding Tuscan cattle since 1891. The Chianina cattle are big and lean, and they're what the regional specialty
Bistecca Fiorentina
are made from. 
Inspired by the Brunello Jam that Giada made at Locanda Demetra, she decided to make a crostata filled with it. A crostata is essentially an open-faced tart with a flakey pie crust, and it can be filled with pretty much anything at all from sweet to savory ingredients. Use Giada's
raspberry jam crostata recipe
to make something similar - it's a great way to showcase your very favorite jam, even a homemade one!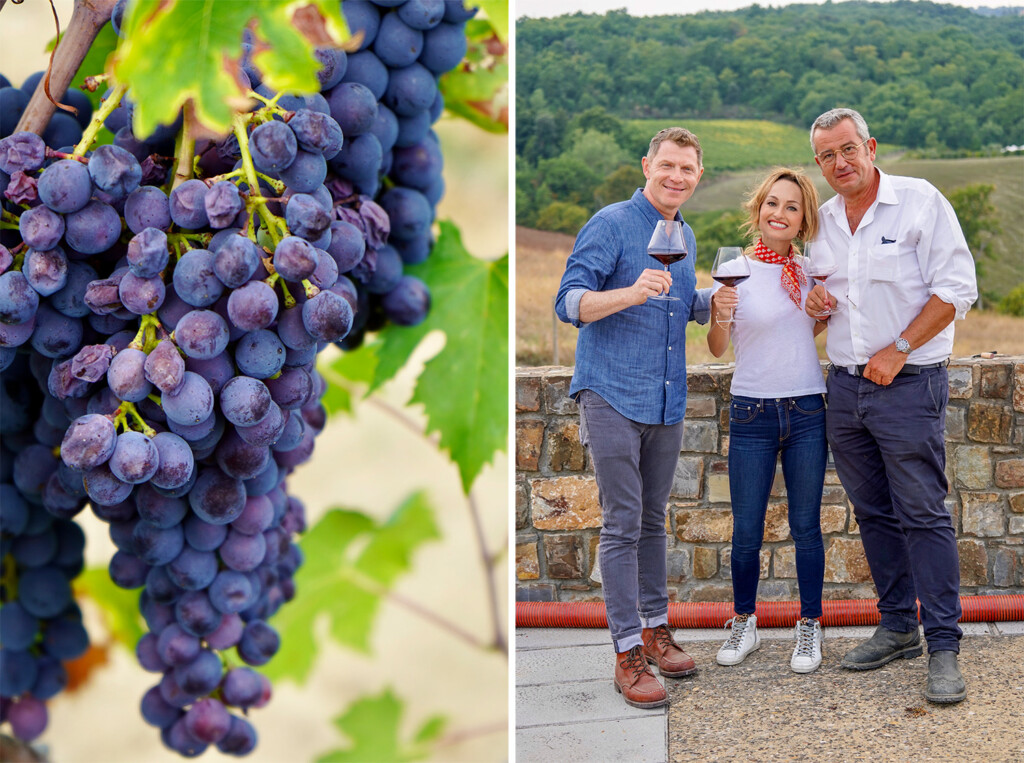 You can't go to Tuscany without visiting a vineyard, and Bobby and Giada visit a particularly amazing one:
Casanova Di Neri Vineyard
. Giada believes they make some of the best wine in the world, and having gotten
to try a bottle of their wine
, we have to agree. It's a spectacular Brunello wine with a full-bodied, rich flavor. 
For their final meal in Tuscany, Bobby and Giada invite Alessandro and Emanuela back to Montalcino to cook something special. Bobby tackles the task of the Bistecca Fiorentina, and Giada makes something local:
gnudi
! It's sort of like the filling of a ravioli meets gnocchi, and it's a beautifully tender and flavorful dish. You can make the exact one right at home!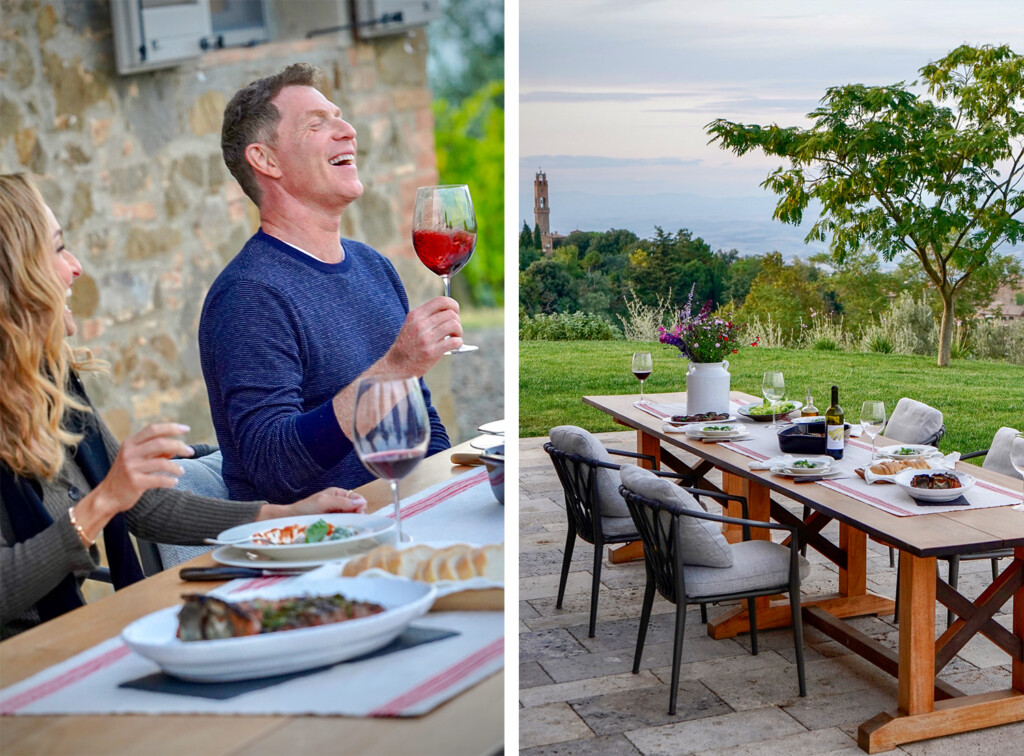 With local vino, fresh bread, great company and an amazing view, it doesn't get much better. That's what Tuscany is all about!