The Most Underrated Kitchen Tool Is One You Already Have
You must be signed in to print this content
When it comes to certain culinary tasks, put the knife away and pull out our favorite underrated kitchen tool: the scissors.
Everyone has a pair of kitchen shears laying around in their kitchen - and yes, they're good for more than opening up packages of food! For many jobs in the kitchen, we actually prefer to use the shears over any knife. It's nothing new, that's for sure - Giada recalls how her mom always used a pair of scissors to dice up whole San Marzano tomatoes for sauces. However, we've come to embrace our shears more and more in the kitchen for a wide breadth of culinary tasks. Wondering just how versatile this underrated kitchen tool can be? Check below!
So, what are a few of our favorite ways to use this humble tool?
•Snip off the pointy top ends of artichoke leaves, as pictured above.
•Chop up whole canned tomatoes, of course!
•Cut up bacon strips with ease - no need to fuss around with chopping lardons on the cutting board. You can even cut the raw bacon straight into the pan this way!
•Trim up a pie crust in a snap - it's especially handy for snipping off overhanging edges on a pie tin.
•Slice up charcuterie like salame and prosciutto without any fuss
•Snip herbs like thyme, chives and basil easily - and green onions!
•When
spatchcocking a chicken
, sharp kitchen shears are the best for the job.
•No pizza cutter? No problem - use the scissors. (works for quesadillas, too!)
•Slice chicken breast or steak up into strips or dices with ease for stir fries and kebabs.
•Chop up leafy greans like kale and chard in a jiffy.
•Make quick work out of peeling shrimp - use the scissors to cut the shell along the top of the shrimp.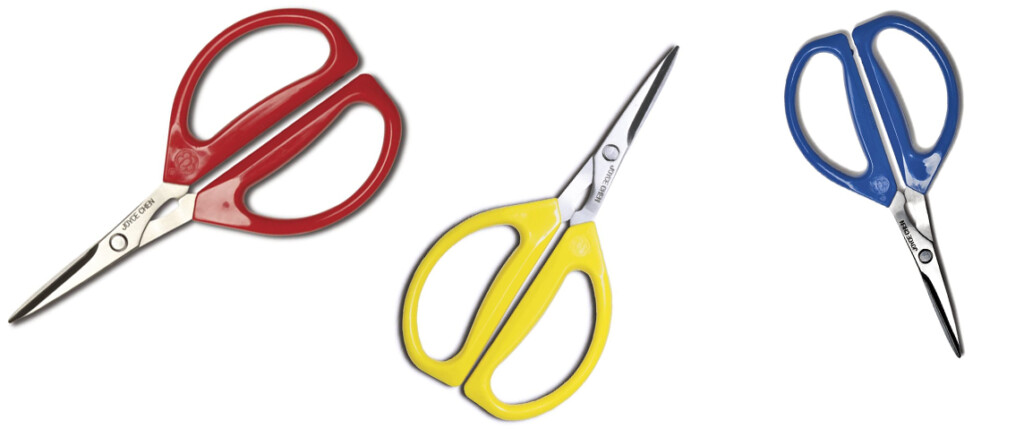 Our favorite picks
For such a mighty multitasker, get some quality kitchen shears that can go the distance. Giada loves
these red scissors by Joyce Chen
, and they're certainly a stylish addition to any kitchen. You can never go wrong with other solid kitchen brands such as
OXO
or
J.A. Henckels,
too. For a splurge or a gift to the home chef,
professional quality shears such as these by Shun
are well worth the cost!