You must be signed in to print this content
Carbonara is a beloved Roman pasta dish that has a reputation for being a bit tricky, but we've got the tips to making a perfect bowl of pasta, pronto.
One of the
4 quintessential pasta dishes of Rome
, carbonara is a well-loved dish that has a bit of a reputation. Not only is it known for being a little tricky to master, but it's often the subject of a 
lot 
of internet discourse. The "correct" ingredients and methods are commonly debated, all of which may add to the intimidation of making the dish - but the reality? It's incredibly easy to make, as long as you heed these simple tips. Lo and behold, carbonara for beginners!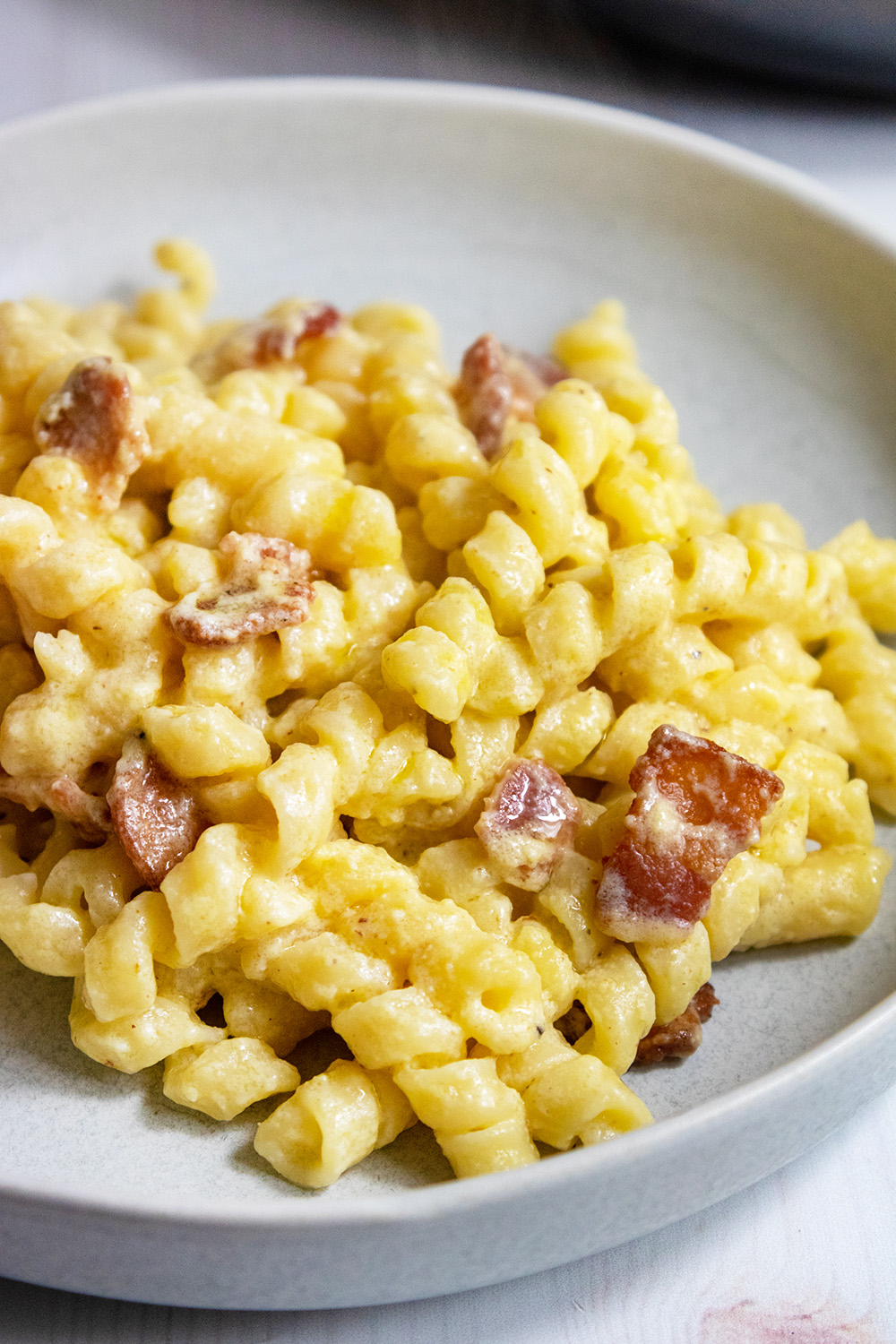 What's in it?

Let's break it down: this pasta requires very few ingredients. Eggs, cheese, pasta, salt, pepper and pork. In Italy, the pork of choice is guanciale: a delicious, unctuous cured product from the jowls or cheeks of the pig. The problem: it's difficult to find at a common grocery store here in the 'states. If you can find it, use it! However, we consider bacon a perfectly delicious substitute. Giadzy is all about making classic Italian food accessible to all, so we're not going to let elusive guanciale stop us from making carbonara!
When it comes to cheese, the debate lies within Pecorino vs Parmigiano. Many recipes favor one or the other, or a blend of both. The way we see it? Pick your favorite! Pecorino offers a very sharp, tangy and assertive flavor, while Parmigiano has a nutty, sweet, buttery flavor. Use a little of both, or use one or the other. 
As for pasta, carbonara is most classically served with spaghetti - but with 1000s of fantastic pasta shapes out there, we often take this as an opportunity to make it with a fun shape that captures all that delicious sauce (like Capricci, pictured above!).


Tips For Success
1.
Whisk it good!
Make sure your egg and cheese mixture is as fully incorporated as possible. This ensures a smooth sauce.
2.
Use that pasta water.
Slowly add hot pasta water to the egg and cheese mixture and mix, mix, mix. The hot water tempers the eggs, which heats them up gently so they don't immediately scramble when they hit the hot pasta. It also helps create a looser sauce, and the starch from the pasta water gives it a great texture as it warms up.
3.
Turn off the flame!
Make sure the fire is off when you add the egg mixture to the pasta in the pan. The residual heat will cook the egg in the sauce, but active fire will cook it too quickly and scramble the eggs.
4.
Pour slowly!
Make sure the egg mixture drizzles into the pasta fairly slowly - you can even do it in several additions. You want every noodle to be coated in the cheesy egg mixture.
5.
Mix, mix, mix!
Keep that pasta moving 'round and 'round when you pour in the egg mixture. This ensures evenly coated pasta, and helps the eggs cook more gently so they don't sit in one place on the hot pan.
There you have it - you're ready to make some carbonara. We believe in you! Grab Giada's classic recipe below.