Giada's Classic Carbonara
You must be signed in to print this content
Giada's Classic Carbonara
Category
Main Course pasta
Author:
Giada De Laurentiis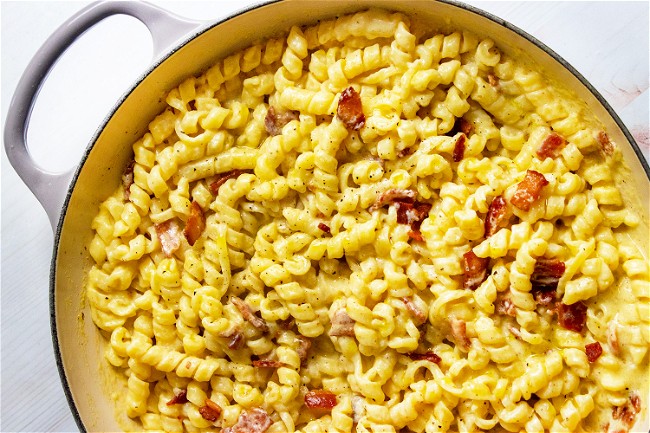 Ingredients
4 egg yolks, (at room temperature)
2 large eggs, (at room temperature)
1/4 tsp freshly ground black pepper
4 slices thick-cut bacon, (about 6 ounces, cut into strips)
Instructions
In a large bowl, combine the egg yolks, whole eggs, Parmigiano Reggiano, salt and pepper. Whisk until well combined and set aside.
Bring a large pot of water to a boil over high heat. Season the water generously with salt. Cook the pasta for 2 minutes less than package directions, about 10 minutes. Drain well, reserving the pasta water.
Meanwhile, heat a large skillet over medium high heat. Add the bacon and cook, stirring often for about 5 minutes or until the bacon is golden and crispy. Once cooked, transfer to a paper towel-lined plate to drain. There should be around ¼ cup of bacon fat left in the pan – if there appears to be less, add a bit of olive oil. If there appears to be much more, discard the excess.
Add the cooked pasta directly to the pan, along with 1/4 cup of the reserved pasta water, and toss to coat.
Meanwhile, slowly drizzle 1/2 cup of the hot pasta water into the egg mixture while whisking vigorously, so as to not directly cook the eggs. This is to temper the eggs so they don't scramble once added to the pan.
Turn off the heat on the pan with the pasta. Slowly pour the entire egg mixture into the pan with the pasta, quickly tossing with a wooden spoon to coat the pasta. Continue mixing for about 2 minutes, until the mixture appears very creamy. Add the reserved bacon and toss to combine. Add more pasta water if necessary to create a looser sauce.
Serve warm, with extra Parmigiano if desired.
Nutrition
Amount/Serving
% Daily Value
Carbs

87 grams

Protein

32 grams

Fat

28 grams

Saturated Fat

11 grams

Trans Fat

1 grams

Cholesterol

313 milligrams

Sodium

1167 milligrams

Fiber

4 grams

Sugar

3 grams

Unsaturated Fat

15 grams