You must be signed in to print this content
Author:
Giada De Laurentiis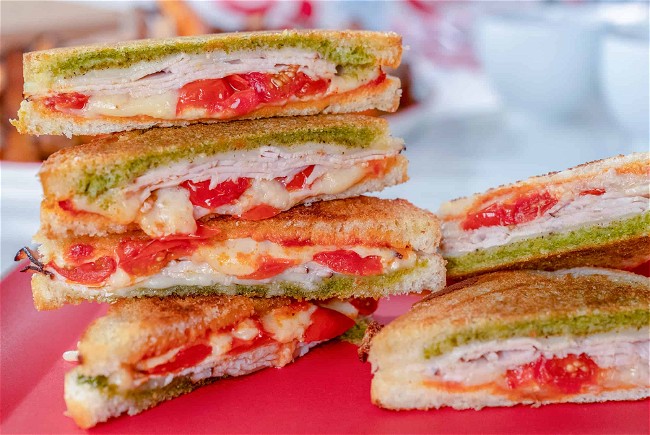 Ingredients
2 cups cherry tomatoes (halved)
1/4 cup olive oil
1/2 teaspoon kosher salt
1/4 cup store-bought pesto
8 slices pullman white bread
1/4 cup marinara sauce
8 slices sliced mozzarella or provolone
8 thin slices smoked turkey
1/4 cup freshly grated Parmesan
Instructions
This recipe originated on Giada's Holiday Handbook. Episode: Thankful For You.
Preheat the oven to 450 degrees F.
Place the tomatoes on a rimmed baking sheet. Drizzle with 1 tablespoon olive oil and sprinkle with the salt. Toss well to coat. Roast the tomatoes until beginning to pop and blister, about 15 minutes.
Meanwhile, spread 1 tablespoon pesto on 4 slices of bread. Spread 1 tablespoon marinara on the other 4 slices. Place a slice of mozzarella on each slice of bread. Divide the turkey evenly on 4 slices of bread and top with some of the blistered tomatoes. Sprinkle each sandwich with 1 tablespoon Parmesan. Top with the remaining slices of bread and press gently.
Heat a large skillet over medium heat. Add half of the remaining oil to the skillet and add 2 sandwiches. Place a lid slightly smaller than the skillet on top of the sandwiches and press down. Cook until golden brown, about 3 minutes. Flip the sandwiches and repeat on the second side. Continue with the remaining sandwiches. (Alternatively, you can use a panini press.) Serve warm.
Nutrition
Amount/Serving
% Daily Value
Carbs

31 grams

Protein

21 grams

Fat

33 grams

Saturated Fat

11 grams

Cholesterol

37 milligrams

Sodium

1394 milligrams

Fiber

2 grams

Sugar

6 grams