Salty-Sweet Apple Hand Pies
You must be signed in to print this content
Salty-Sweet Apple Hand Pies
Author:
Giada De Laurentiis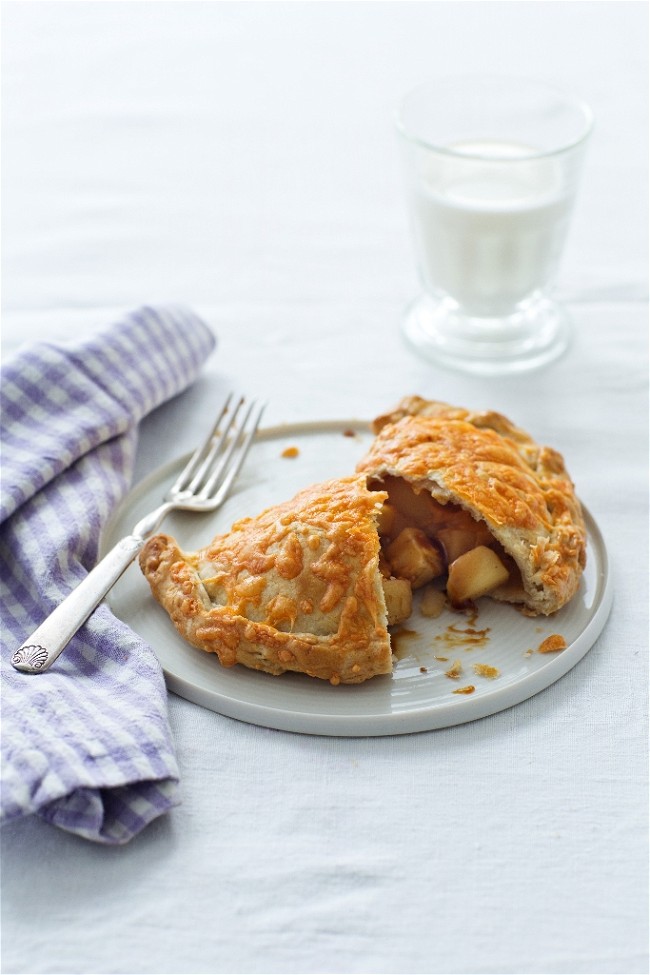 Ingredients
For the Salted Caramel Sauce

½ cup sugar
½ cup heavy cream (room temperature)
1 teaspoon coarse-grain sea salt
1 tablespoon unsalted butter (room temperature)

For the hand pies

2 tablespoons unsalted butter
2 Granny Smith apples (peeled and cut into ?-inch pieces)
2 Pink Lady apples (peeled and cut into ?-inch pieces)
¼ cup sugar
1 tablespoon lemon juice
½ teaspoon ground cinnamon
¼ teaspoon kosher salt
1 tablespoon flour
2 store-bought pie crusts
10 tablespoons grated sharp cheddar cheese
1 egg (whisked)
Instructions
What's better than apple pie? Miniature apple pies you can eat with your hands! You can (of course) also serve these on a plate with a scoop of vanilla gelato. Either way, I love the sweet-and-savory combination of the salted caramel sauce, apples, and sharp cheddar.
In a high-sided small saucepan, heat the sugar and ¼ cup water over medium-high heat, swirling the pan frequently and brushing down the sides of the pan with a damp heat-proof brush.
Cook the mixture until it's golden and caramel in color, about 5 minutes. Remove the sugar mixture from the heat and carefully whisk in the heavy cream until the bubbling subsides. Whisk in the salt and butter and set aside to cool. Makes about ½ cup salted caramel sauce.
In a large saucepan, melt the butter over medium-high heat and sauté the apples and sugar for 2 to 3 minutes, until they just begin to break down. Add the lemon juice, cinnamon, salt, and flour and cook for an additional 3 minutes. Remove the apples from heat and cool, they should still have a bit of crunch to them.
Preheat the oven to 425° F. Line a rimmed baking sheet with parchment paper. Divide each pie crust into 4 even pieces, for 8 total. Lightly flour a work surface and roll each dough piece into an 8-inch round. Scoop a heaping ? cup pie filling onto one side of each round and top with 1 tablespoon caramel sauce and 1 tablespoon cheddar cheese.
Fold the pie crust over the filling and press the edges to seal. With your fingers, roll the sealed edges towards the filling then crimp the dough as you would a pie crust. Place the hand pie on the baking sheet. Repeat with the remaining crust and filling.
Using a pastry brush, brush each hand pie with the egg wash. Sprinkle the tops with the remaining 2 tablespoons of cheddar cheese. Bake the pies for 17 to 20 minutes, or until the filling is bubbly and the crust golden brown.