You must be signed in to print this content
Author:
Giada De Laurentiis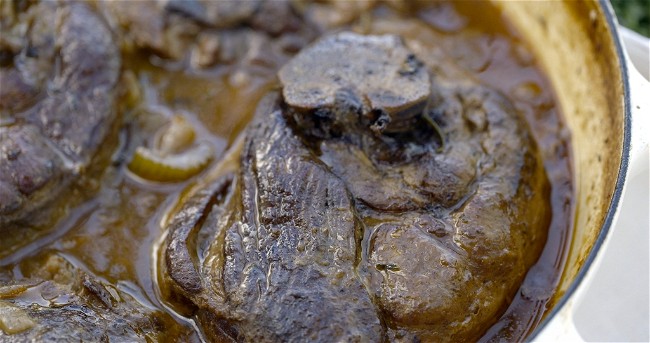 Ingredients
3 tablespoons vegetable oil
4 pounds of lamb shank cut into 2 inch ossobuco
1 ¾ teaspoons kosher salt
1/3 cup flour
1 onion (chopped)
3 cloves of garlic (peeled and smashed)
1 large carrots (peeled and diced into 1/3 inch pieces)
2 celery stalks (chopped into 1/3 in pieces)
¼ cup tomato paste
1 cup dry white wine
3 cups unsalted chicken broth
1 sprig rosemary
3 sprigs of thyme
1 bay leaf
Instructions
As seen on: Giada in Italy, Episode 11. Sunday Supper.
Heat the oil a large braiser over medium high heat. Dry the lamb very well and season with 1 1/4 teaspoon salt. Dredge each piece in the flour shaking off the excess. Add the lamb to the pan and sear on all sides until deep golden brown. It will take 8 to 10 minutes. Remove the seared lamb to a plate. Add the onions garlic, carrots and celery to the pan and season with the remaining 1/2 teaspoon salt. Cook for about 3 minutes until beginning to brown and the mixture is fragrant. Add the tomato paste and cook stirring often for about 2 minutes to caramelize the paste.
Deglaze with the white wine and bring to a simmer reduce the heat to medium and simmer for 3 minutes. Stir in the chicken broth, rosemary, thyme and bay leaf. Nestle the lamb back in the pan and cover with the lid. Reduce the heat to low and cook for 2 hours or until the lamb is soft and tender. Remove the meat to plate and keep warm. Skim the fat from the surface of the sauce and remove the herb sprigs and bay leaf.
Return the meat to sauce and serve, sprinkled with parsley and lemon zest.
Nutrition
Amount/Serving
% Daily Value
Carbs

20 grams

Protein

45 grams

Fat

18 grams

Saturated Fat

11 grams

Cholesterol

128 milligrams

Sodium

1364 milligrams

Fiber

2 grams

Sugar

5 grams