Tuna Crostini With Goat Cheese Mascarpone
You must be signed in to print this content
Tuna Crostini With Goat Cheese Mascarpone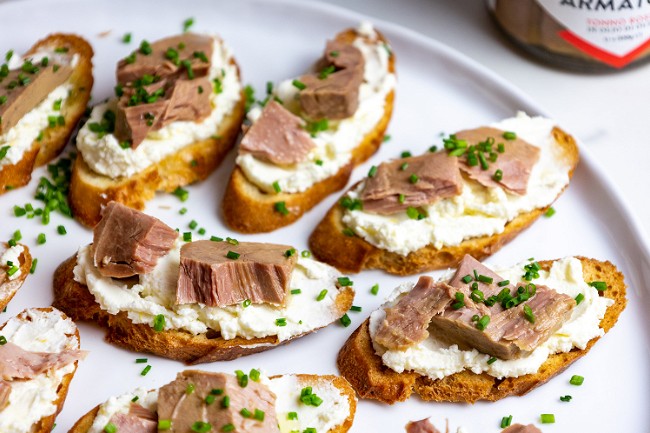 Ingredients
For The Crostini:

1/2 baguette

For The Goat Cheese Spread:

1/2 cup (4 ounces) goat cheese
1/2 cup (4 ounces) mascarpone
1 teaspoon lemon zest, from one lemon
2 tablespoons lemon juice, from one lemon
¼ tsp kosher salt

For Topping:

Fresh chives, chopped fine
Instructions
Preheat the oven to 400 degrees F.
On a slight bias, slice the baguette into 1/4-inch slices. Brush the slices with the 1/4 cup olive oil, then place on a baking sheet. Bake until golden brown and crunchy, 10 to 12 minutes. Set aside to cool.

For the goat cheese mascarpone: Using a rubber spatula, mix the goat cheese, mascarpone, lemon zest and lemon juice together until well combined and smooth. Set aside.

To assemble: Place a dollop of the goat cheese mixture on each crostini, using a spoon or offset spatula to spread it out, and top with a filet of tuna. Assemble the crostini on a platter. Top with fresh chives and serve.