Grilled Treviso Salad with Citrus Garlic Dressing
You must be signed in to print this content
Grilled Treviso with Citrus Bagna Cauda
Author:
Giada De Laurentiis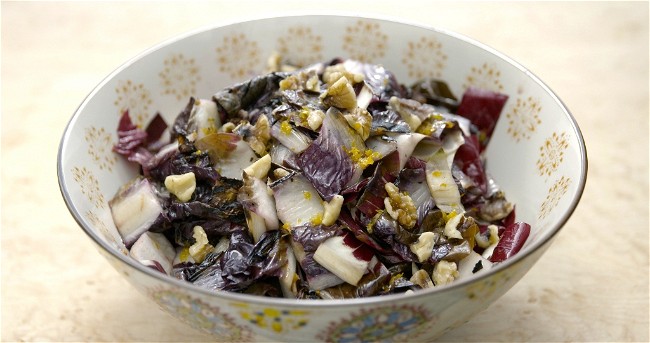 Ingredients
3 tablespoons extra virgin olive oil
3 garlic cloves (smashed and peeled)
2 anchovy filets
1 teaspoon lemon zest (from 1 lemon)
1 teaspoon orange zest from 1/2 orange
1 tablespoon lemon juice (from 1/2 a lemon)
1 tablespoon orange juice (from 1/2 an orange)
1 1/2 teaspoons honey
1/4 teaspoon kosher salt
1/8 teaspoon black pepper

To assemble:

3 large treviso (halved lengthwise)
1/2 teaspoon kosher salt
1/2 cup walnuts (chopped)
Instructions
As seen on: Giada in Italy, Episode 1. Cucina Italiana.
For the bagna cauda, heat the oil in a small sauté pan over medium heat. Add the garlic and anchovy. Cook, stirring often and breaking up the anchovies with a wooden spoon until they dissolve and the garlic is fragrant and beginning to brown. This takes about 3 minutes. Set aside to cool. Meanwhile add the lemon zest, orange zest, lemon juice, orange juice, honey, salt and pepper to a small bowl. Once the oil is cooled to room temperature, whisk the seasoned oil into the citrus. Allow to mingle for about 10 minutes before removing the garlic.
Preheat a grill pan over medium high heat.
Grill the treviso halves for 3 minutes per side over medium high heat until charred and slightly wilted in some spots. Remove the treviso from the grill and cut out the core. Chop the leaves into bite sized pieces and place in a medium bowl. Season with 1/2 teaspoon salt. Toss the treviso with the dressing and sprinkle with the walnuts.
Nutrition
Amount/Serving
% Daily Value
Carbs

4 grams

Protein

2 grams

Fat

13 grams

Saturated Fat

2 grams

Cholesterol

1 milligrams

Sodium

293 milligrams

Fiber

1 grams

Sugar

2 grams