Gluten-Free Chicken Milanese
Gluten-Free Chicken Milanese
Category
main Main Course
Author:
Giada De Laurentiis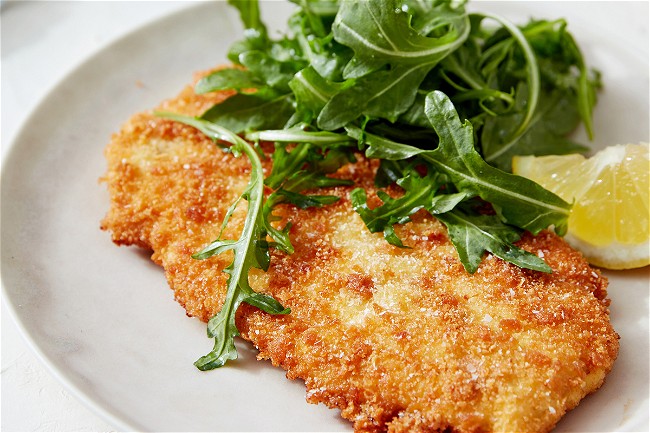 Ingredients
4 chicken cutlets (about 4 ounces each, pounded thin)
1¾ teaspoons kosher salt (divided)
2 large eggs (beaten)
3/4 cup gluten-free panko breadcrumbs
3 tablespoons olive oil
1/4 teaspoon freshly ground black pepper (optional)
1 lemon (cut into wedges)
Instructions
Preheat a large skillet over medium heat.
Season the pounded cutlets evenly on all sides with 1/2 teaspoon of salt.
Place the flour, eggs and breadcrumbs in 3 separate, shallow bowls.4.Season the flour with 1/4 teaspoons salt, the eggs with 1/4 teaspoons salt and the breadcrumbs with 1/2 teaspoon salt.
One at a time, dredge the seasoned chicken cutlets in the flour, then the egg mixture, then the breadcrumbs, pressing gently to make sure the breadcrumbs are evenly coating the chicken.
Add the oil to the hot pan and heat another 10 seconds.
Add the breaded chicken to the pan and cook for 4 to 5 minutes or until the first side is a deep golden-brown and the chicken is beginning to look cooked around the edges.
Work in batches if needed. Flip the cutlets and continue to cook on the second side until golden-brown and crispy, about 3 minutes longer.
Remove the chicken to a wire rack and season with the remaining 1/4 teaspoon salt and pepper if desired.
Serve hot with 1 or 2 lemon wedges.
Nutrition
Amount/Serving
% Daily Value
Carbs

33 grams

Protein

41 grams

Fat

20 grams

Saturated Fat

4 grams

Trans Fat

1 grams

Cholesterol

201 milligrams

Sodium

1367 milligrams

Fiber

2 grams

Sugar

1 grams

Unsaturated Fat

12 grams