Fregotto (Fregola Risotto)
You must be signed in to print this content
Fregotto (Fregola Risotto)
Category
Main Course Side Dish
Author:
Giada De Laurentiis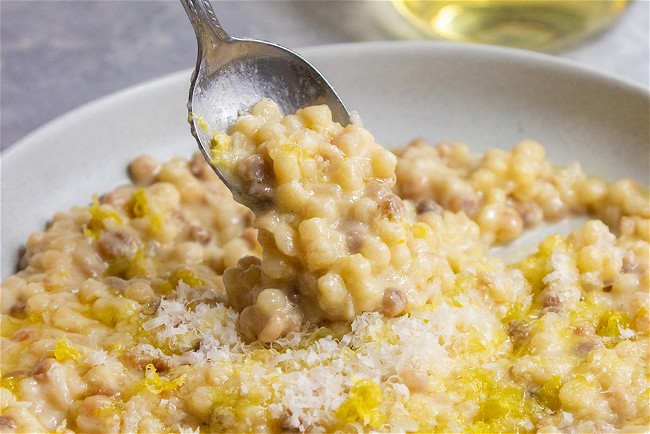 Ingredients
8 cups low-sodium chicken broth
¼ cup half stick unsalted butter
1 large yellow onion, (chopped very fine)
3 garlic cloves, (chopped fine)
1 cup dry white wine
1/4 cup mascarpone
3 tablespoons lemon juice, (from one lemon)
2 teaspoon kosher salt
Lemon zest, (for serving)
Instructions
Add the broth to a saucepan, and gently warm up on the stove top over very low heat.
Melt the butter in a heavy large saucepan over medium heat. Add olive oil. Add the onions and saute until tender, about 4-5 minutes. Add the chopped garlic and heat for 1 to 2 more minutes.
Stir in the dry fregola and mix to combine with the onions and garlic. Add the wine, and cook until the liquid is absorbed, stirring often, about 2 minutes. Add 1 cup of hot broth, simmer over medium-low heat until the liquid is absorbed, stirring often, about 3 minutes. Continue to cook until the fregola is just tender and the mixture is creamy, adding more broth by cupfuls and stirring often, about 20 minutes (the fregola will absorb 6 to 8 cups of broth).
Once the fregola is tender and the mixture is creamy, add the kosher salt, mascarpone, lemon juice and Parmigiano. Stir gently until the mascarpone appears fully mixed through. Taste and adjust seasoning if necessary. Serve hot into bowls and top with extra Parmigiano, a drizzle of olive oil and lemon zest.
Nutrition
Amount/Serving
% Daily Value
Carbs

65 grams

Protein

23 grams

Fat

12 grams

Saturated Fat

6 grams

Cholesterol

21 milligrams

Sodium

1149 milligrams

Fiber

3 grams

Sugar

4 grams

Unsaturated Fat

3 grams