You must be signed in to print this content
Author:
Giada De Laurentiis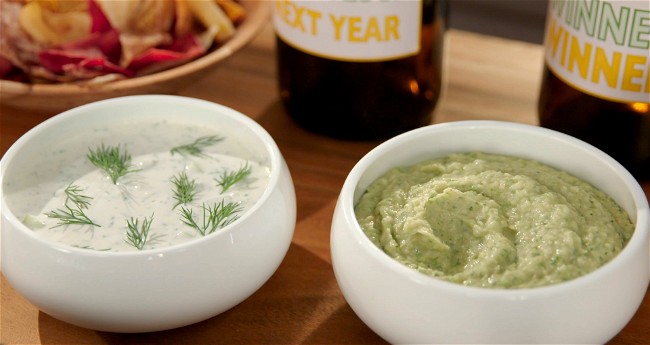 Ingredients
Green Goddess White Bean Dip:

1 15 ounce can of white beans, drained and rinsed
1/3 cup extra virgin olive oil
2 tablespoons chopped tarragon leaves
2 tablespoons chopped basil
2 tablespoons chopped chives
1/4 teaspoon anchovy paste
1 1/2 tablespoons lemon juice (from half a large lemon)
1/4 teaspoon salt

Gorgonzola Cucumber Dip:

1 cup sour cream
1/2 cup aged gorgonzola cheese
1/2 english cucumber (diced (about 1 cup))
2 tablespoons chopped dill
1 teaspoon lemon zest (from 1 small lemon)
1/4 teaspoon salt
Store bought guacamole and/or salsa
Assorted vegetables (pita chips, tortilla chips and pretzles for dipping)
Instructions
As seen on: Giada Entertains, Episode 4. Super-Sized Superbowl Party.
In the bowl of a food processor puree the white beans, olive oil, tarragon, basil, chives, anchovy paste, lemon juice and salt together until smooth, scraping down the sides with a rubber spatula as needed. Refrigerate until ready to use.
In a medium bowl fold together the sour cream, gorgonzola, cucumber, dill, lemon zest and salt. Refrigerate until ready to use.
To serve place all of the dips in separate bowls and surround them with crudité, assorted chips and pretzels.