You must be signed in to print this content
Author:
Giada De Laurentiis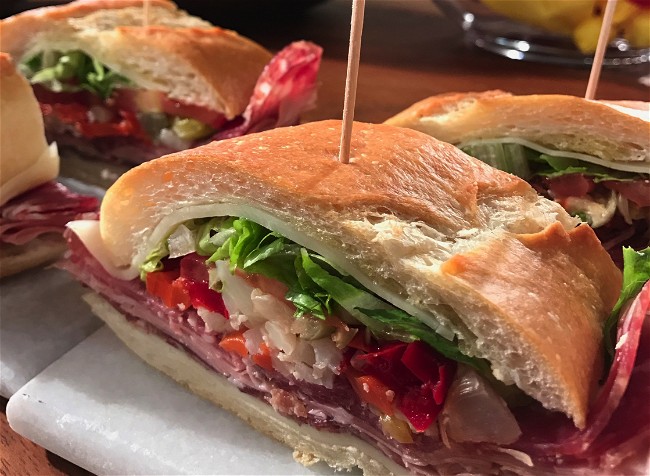 Ingredients
1 2 foot loaf Italian bread

For the Burrata and Curried Cauliflower Sandwich:

1 head cauliflower (cut into 1 inch florets)
3 tablespoons extra virgin olive oil
1/2 teaspoon salt
1 teaspoon curry powder
1/2 cup mayonnaise
1/4 cup basil leaves (chopped)
1 1/2 pound burrata cheese
pinch of salt
1/2 cup arugula

Italian Sandwich:

8 deli slices provolone cheese
2 ounces spicy coppa
2 ounces finocchiona salami
1/4 pound mortadella
1 to mato (sliced thin)
pinch of salt
1 small heart of romaine (shredded)
1 cup giardiniera (chopped)
1 teaspoon white balsamic vinegar

Turkey and Cheese Sandwich:

1/4 cup yellow mustard
1/2 cup sweet pickle relish
1/3 pound sliced black forest ham
4 deli slices white cheddar cheese
Instructions
As seen on: Giada Entertains, Episode 4. Super-Sized Superbowl Party.
Slice the loaf of bread in half horizontally and remove some of the extra inside bread making a shallow boat on both the top and bottom halves of the bread.
Preheat the oven to 450 degrees F.
On a rimmed baking sheet combine the cauliflower, olive oil, salt and curry powder. Toss well to coat in the seasoning. Roast for 20 minutes or until beginning to brown and tender all the way through. Allow to cool completely before using.
Meanwhile in a small bowl, mix together the mayonnaise and basil with a rubber spatula. Refrigerate until ready to use.
On one third of the loaf of bread, spread the mayonnaise on the inside of the top and bottom of the bread. Tear 1/2 of the burrata over the the bottom of that section. Sprinkle with a pinch of salt. Pile the cauliflower on top of the burrata. Tear the remaining burrata over the cauliflower and top with the arugula.
On the next third of the bread, shingle 4 pieces of cheese on the bottom and 4 on the top. Layer the coppa, finocchiona and mortadella on top of the bottom cheese. Follow with with the sliced tomato, pinch of salt, shredded lettuce and chopped giardiniera. Drizzle the greens with the white balsamic.
On the last third of the bread, spread the inside of the top and bottom of the bread with the mustard followed by the sweet relish. Shingle the turkey over the bottom and place the cheese on top .
Replace the top of the loaf of bread on top of the sandwich. Tightly wrap with plastic wrap and refrigerate for at least 4 hours. Cut into slices and serve using a tooth pick to hold it together if needed.