Broccoli Rabe with Raisins and Pine Nuts
You must be signed in to print this content
Broccoli Rabe with Raisins and Pine Nuts
Author:
Giada De Laurentiis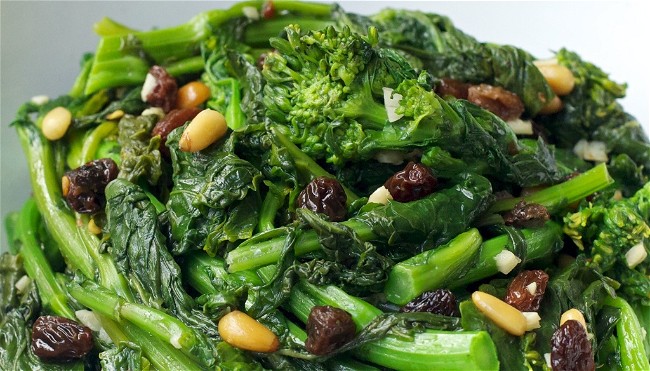 Ingredients
4 bunches (12 to 16 ounces each broccoli rabe (rapini), stems trimmed)
1/4 cup olive oil
3 garlic cloves (chopped)
1/2 teaspoon crushed red pepper flakes
1/3 cup raisins
Kosher salt
Instructions
Working in batches, cook the broccoli rabe in a large pot of boiling salted water until crisp tender, about 2 to 3 minutes per bunch. Transfer the broccoli rabe to a large bowl of ice water to cool. Reserve about 1/4 cup of the cooking liquid. Drain the cooled broccoli rabe and set aside.
Heat the oil in a heavy large skillet over medium heat. Add the garlic and red pepper flakes, and saute until the garlic is golden, about 1 minute. Reduce heat to medium-low. Add the broccoli rabe and toss to coat. Add the reserved cooking water, the raisins, and cook until the broccoli rabe is heated through and the stems are tender, about 4 minutes. Season with salt, to taste. Toss the mixture with toasted pine nuts, serve immediately.