Apple Gorgonzola Crostata
You must be signed in to print this content
Apple Gorgonzola Crostata
Author:
Giada De Laurentiis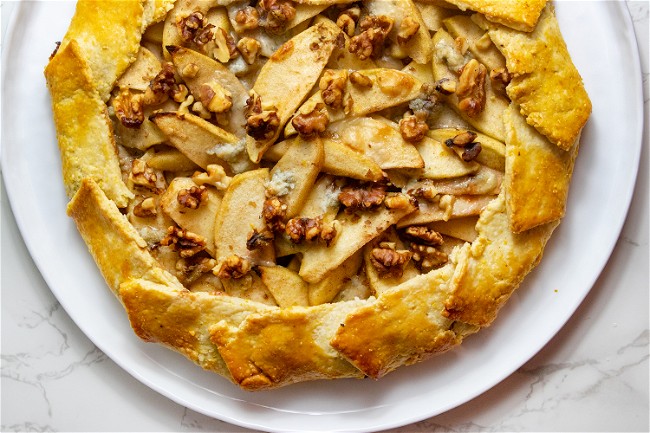 Ingredients
For The Crust:

1 teaspoon kosher salt
10 tablespoons 1 1/4 sticks unsalted butter, (cubed and chilled)
1/3 cup ice water plus 1 tablespoon if needed

For The Filling:

3 tablespoons unsalted butter, (melted)
4 small Granny Smith apples, (peeled, cored, and cut into 1/4 to 1/2-inch thick slices)
1/4 cup granulated sugar
3/4 teaspoon ground cinnamon
1 tablespoon fresh lemon juice
1 teaspoon lemon zest
1/2 cup chopped walnuts
1/3 cup crumbled Gorgonzola
1 large egg, (lightly beaten)
Instructions
To a large bowl add the flour, cornmeal and salt. Use your hand to combine everything together. Add the cold butter and begin quickly working it with your fingers, smearing it slightly to make small streaks of butter with flour and pieces of butter the size of a chickpeas. Do not over work. Add the ice water and stir to combine. When it is just starting to come together, pour the mixture out onto a clean surface and knead the mixture 4 or 5 times to bring it together. Form a flat disk and wrap tightly with plastic wrap. Refrigerate for 1 hour.
For the filling: Place an oven rack in the lower third of the oven. Preheat the oven to 400 degrees F. Melt the butter in a large nonstick skillet over medium heat. Add the apple slices, sugar, and cinnamon. Cook, stirring frequently, until the apples are softened, but not mushy, about 5 minutes. Set aside to cool for 10 minutes. Stir in the lemon juice, lemon zest, walnuts, and Gorgonzola.
Cut a piece of parchment paper to fit the inside of a 12 by 17-inch baking sheet and place on a work surface. Place the chilled dough on the parchment paper. Roll the dough out into an 11-inch circle, about 1/4-inch thick. Lift the parchment paper and transfer to the baking sheet. Spoon the apple filling into the center of the dough. Spread the filling evenly, leaving a 2-inch border. Fold the dough border over the filling to form an 8-inch round. Pleat the edge of the pastry and pinch to seal any cracks in the dough.
Using a pastry brush, brush the crust with the beaten egg. Bake until the crust is golden, about 25 minutes. Cool for 10 minutes before slicing and serving.
Nutrition
Amount/Serving
% Daily Value
Carbs

45 grams

Protein

7 grams

Fat

26 grams

Saturated Fat

13 grams

Trans Fat

1 grams

Cholesterol

76 milligrams

Sodium

493 milligrams

Fiber

4 grams

Sugar

16 grams

Unsaturated Fat

11 grams