Giada's Favorite Packing Tips From Marie Kondo
You must be signed in to print this content
Giada tried Marie Kondo's famed organization method - and picked up some new packing tips along the way!
Giada is a pro jet-setter— in fact, we've sworn by her packing tips for years— so when she said she picked up some game-changing new packing tips from Marie Kondo, we knew they were going to be good. 
Kondo-ing has swiftly become a buzz-term everywhere, thanks in part to Marie Kondo's new Netflix special:
Tidying Up With Marie Kondo. 
Left and right, people everywhere have been denoting which of their belongings spark joy, and giving a polite and grateful 
"thank you, next," 
to those which don't. (Pro-tip: this might be a really great time to head to the thrift store!)
Packing for a trip - especially when it's last-minute - can become disorganized, messy, and you can often arrive at your destination wondering why you packed one thing and not another. Giada stumbled upon this 
youtube video
of Marie Kondo's packing tips, and it's become an inspiration for what a packed suitcase 
should 
look like!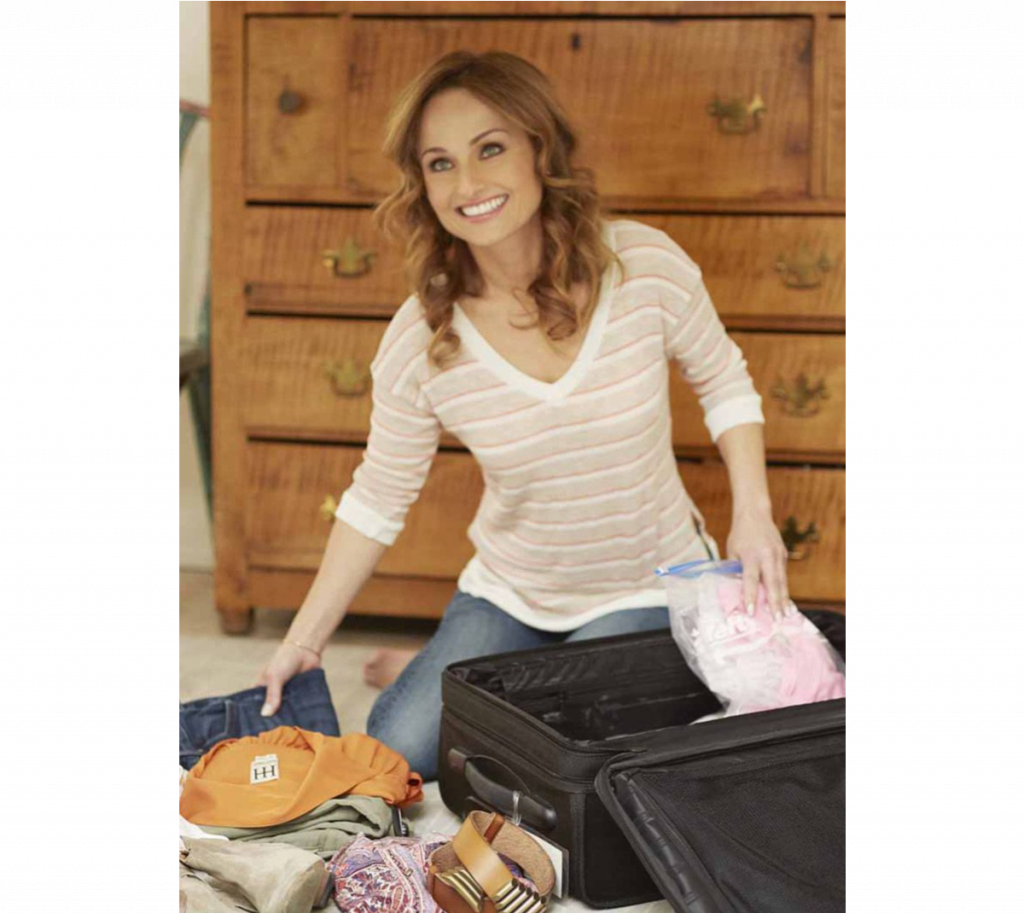 1. Pair Down
Marie Kondo's advice is to first be more mindful about the items you bring along with you, and only pick the clothing that - yep - spark joy! Many of us just try and cram as many of our things as possible into the suitcase (guilty!) but this method is much more organized, and will make outfit-choosing a more obvious and simple task once you're on your vacation. 
2. Fold Small (and don't stack!)
Once you've paired down, fold up your clothing as small as possible. The signature look of a Kondo'd suitcase is that you can visually see 
all 
the clothes you've packed, tightly nestled next to each other. We find this simple trick to be total genius, because the moment you start stacking clothes, it becomes disorganized and messy the moment you start looking for what to wear! 
3. Bring Versatile Shoes
Giada also notes that she was inspired by the versatility of shoes that Marie put emphasis on - something that is so important and often overlooked by travelers. Not having the right footwear can put a damper on a walking-heavy trip - and on the bright side, having shoe versatility can easily dress an outfit up or down. 
Next time you're packing, try the Kondo Method... along with the Giada method!