You must be signed in to print this content
Category
Appetizer Side Dish
Author:
Giada De Laurentiis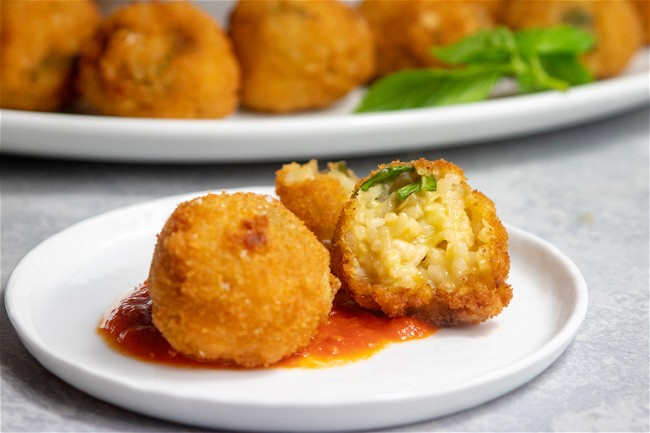 Ingredients
3 shallots (minced)
1 garlic clove (minced)
1/2 teaspoon kosher salt
1 cup dry white wine (such as pinot grigio)
1 tablespoon soy sauce
1 cup unsalted vegetable broth
1 cup water
1/4 cup basil leaves (chopped)

For Frying:

1 cup extra virgin olive oil
1 cup vegetable oil
½ cup unsweetened almond milk
1 cup bread crumbs
Instructions
As seen on: Giada in Italy, Episode 2. Italian Cocktail Party.
Heat a 3 1/2 quart Dutch oven over medium high heat. Add the olive oil, shallots, garlic and salt. Cook for about 2 minutes, stirring often until soft and fragrant. Add the rice and toast, stirring constantly to coat in the oil, for about 2 additional minutes. Add the white wine and soy sauce and cook, stirring often, until the wine is almost entirely absorbed. Combine the vegetable broth and water in a measuring cup. Add 3/4 cup of the broth mixture and stir until almost completely absorbed, about 4 minutes. Continue adding the broth, 1/2 cup at a time, stirring constantly and allowing each addition of stock to absorb before adding the next. Cook until the rice is tender but not mushy, about 20 minutes. Stir in the artichokes. Remove the pot from the heat and allow the mixture to cool for 15 minutes. Stir in the basil and spread on a sheet tray to cool completely. Another 20 minutes.
Heat the oils in a heavy bottomed sauce pan or Dutch oven over medium heat until a deep fry thermometer reaches 350 degrees F.
Set up a breading station with the flour, almond milk and breadcrumbs in separate, shallow containers. Using a small ice cream scoop, scoop about 2 tablespoons of the cooled rice mixture into your hands and gently roll into a ball. Dredge the rice ball in the flour, then in the almond milk and finally in the breadcrumbs, packing them firmly. Repeat with the remaining rice.
In batches of 4 or 5, fry the rice balls until golden brown on the outside and warmed through, about 3 minutes. Drain on paper towels. Serve with marinara for dipping, if desired.
Nutrition
Amount/Serving
% Daily Value
Carbs

14 grams

Protein

2 grams

Fat

20 grams

Saturated Fat

9 grams

Sodium

329 milligrams

Fiber

1 grams

Sugar

2 grams