You must be signed in to print this content
Author:
Giada De Laurentiis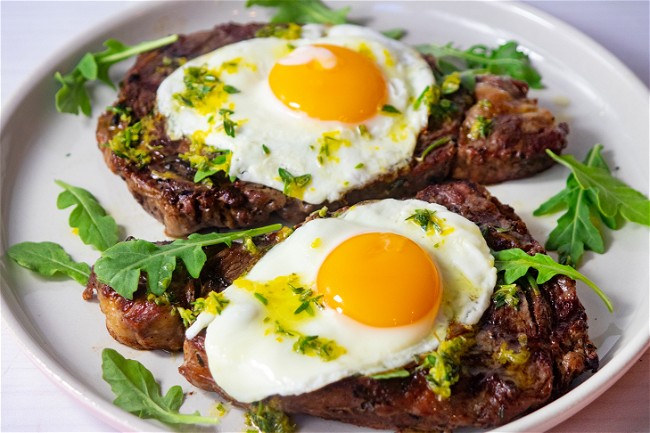 Ingredients
For The Marinade:

One 18-ounce bone-in rib-eye steak, (about 1 1/2-inches thick*)
2 teaspoons extra-virgin olive oil
4 sprigs fresh rosemary
4 sprigs fresh thyme
2 cloves garlic, (peeled and smashed)

For The Steak:

1 1/4 teaspoons kosher salt
1/2 teaspoon lemon zest
1 teaspoon fresh lemon juice
2 teaspoons plus 1 teaspoon extra-virgin olive oil
1/4 teaspoon chopped fresh rosemary
1/4 teaspoon chopped fresh thyme
1/4 teaspoon freshly ground black pepper, (plus more for seasoning)
1 large egg
6 or 7 leaves baby arugula
*Chef',s Note: If using a smaller ribeye steak, around 10 ounces, use 2 of them for this recipe and cook an extra egg for the second one. Simply cook fully on the grill until 135 degrees for medium-rare, and skip the portion of finishing in the oven.
Instructions
For the marinade: The day before you plan on cooking your steak, place the rib-eye in a resealable baggie along with the olive oil, rosemary, thyme and garlic. Move the herbs and garlic around in the bag to coat the steak with all the flavors. Refrigerate overnight.
For the steak: Remove the steak from the refrigerator 30 minutes before cooking. Preheat the oven to 400 degrees F.
Heat a grill pan over medium-high heat. Sprinkle the steak evenly with 1 teaspoon of the salt. Place the steak on the grill pan and sear for 5 minutes without moving the steak. Flip the steak and repeat on the other side. Remove the steak to a baking sheet and place in the oven for 10 minutes for medium doneness. Allow the steak to rest for 15 minutes.
Meanwhile, in a small bowl mix together the lemon zest, lemon juice, 2 teaspoons olive oil, rosemary, thyme, 1/8 teaspoon of the salt and 1/8 teaspoon of the pepper. Set aside.
Heat a small nonstick skillet over medium heat. Add 1 teaspoon olive oil and slide in the egg, being careful not to break the yolk. Sprinkle with the remaining 1/8 teaspoon salt and 1/8 teaspoon pepper. Reduce the heat to medium-low and gently cook the egg until the white is just set and the yolk is still soft, about 3 minutes.
Transfer the rested steak to a serving plate. Scatter the arugula over the steak and drizzle 1 teaspoon of the herb oil. Lay the egg, sunny-side up, over the top. Drizzle with the remaining herb oil and season with a few grinds of black pepper.
Nutrition
Amount/Serving
% Daily Value
Carbs

2 grams

Protein

55 grams

Fat

46 grams

Saturated Fat

18 grams

Trans Fat

1 grams

Cholesterol

249 milligrams

Sodium

1622 milligrams

Fiber

1 grams

Sugar

1 grams

Unsaturated Fat

27 grams