Tangerine and Herb Branzino
You must be signed in to print this content
Tangerine and Herb Branzino
Author:
Giada De Laurentiis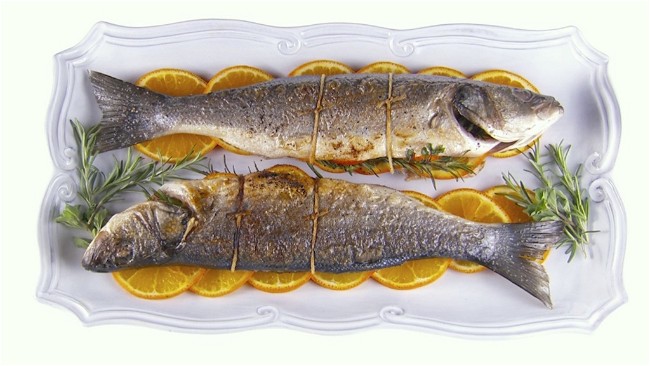 Ingredients
Nonstick cooking spray
Two 1 1/4-pound branzino (gutted and scaled)
1 1/4 teaspoons kosher salt
1/2 teaspoon freshly ground black pepper
2 tangerines or 2 small oranges
4 sprigs fresh oregano (plus 1/2 teaspoon chopped)
4 sprigs fresh rosemary
1/4 cup plus 1 teaspoon extra-virgin olive oil
1/4 teaspoon Dijon mustard
Instructions
Preheat the oven to 400 degrees F. Spray a rimmed baking sheet with nonstick cooking spray.Use paper towels to pat the whole fish dry. Score the skin of each branzino by making two shallow cuts on a slight diagonal on each side of the fish. Season each branzino inside and out with 1/2 teaspoon salt and 1/4 teaspoon pepper.
Slice 1 tangerine crosswise into 8 rounds (discard any seeds). Halve and squeeze the other tangerine to get 1/4 cup juice.
Stuff the cavity of each branzino with the sliced tangerine, oregano sprigs and rosemary sprigs. Close the belly slightly around the filling and tie loosely with a piece of butcher's string to help hold the filling inside.
Heat a large, oven-safe skillet over medium-high heat. Add 2 tablespoons olive oil and swirl to coat the pan. Working one at a time, place the fish in the pan and allow it to sear for 3 minutes, pressing down gently to ensure even browning and crispness. Reduce the heat to medium and cook until the first side is golden-brown and crisp, 1 to 2 minutes longer, then flip the fish and repeat on the other side until the fish is golden-brown and crisp, about 4 minutes.
Transfer the fish to the prepared baking sheet. Add 1 tablespoon olive oil to the pan and repeat with the other fish. Place the baking sheet in the oven and cook until the fish are cooked through and the flesh is flaky, about 8 minutes. Remove the fish from the oven and untie and discard the string. Let the fish to rest for 4 minutes.
While the fish rests, in a small bowl whisk together the Dijon mustard, chopped oregano, tangerine juice, 1/4 teaspoon salt and 4 teaspoons olive oil. While the fish is still warm, drizzle the vinaigrette over the fish and serve.
Nutrition
Nutrition
Nutrition Serving Size

4 servings
Amount/Serving
% Daily Value
Fat

19.4 grams
30%

Saturated Fat

3.6 grams
18%

Trans Fat

0 grams
0%

Cholesterol

117.2 milligrams
39%

Sodium

756.9 milligrams
32%

Carbs

5.5 grams
2%

Fiber

2.6 grams
10%

Sugar

1.6 grams

Protein

53.3 grams
100%