You must be signed in to print this content
Author:
Giada De Laurentiis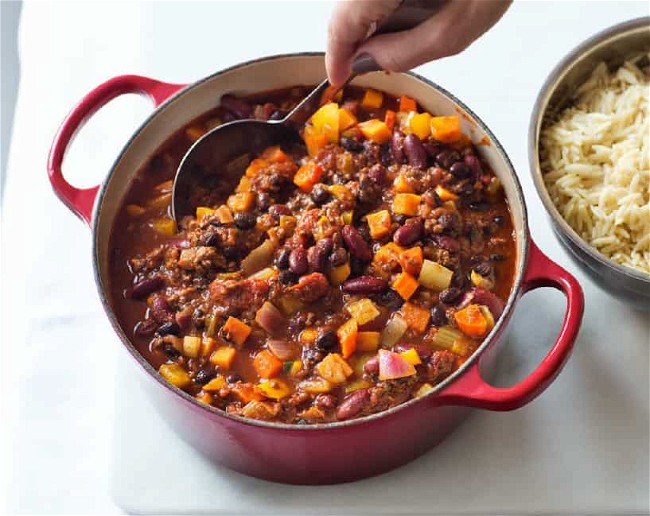 Ingredients
2 tablespoons vegetable oil
½ pound ground sirloin
1 red onion (diced)
2 carrots (peeled and chopped)
2 celery stalks (chopped)
3 cloves garlic (chopped)
1 yellow pepper (seeded and diced)
1 jalapeno (seeded and diced)
1 tablespoon cumin
2 tablespoons chili powder
1 teaspoon salt
1 chipotle in adobo (chopped, with 2 teaspoons)
adobo
1 cup beer (such as pale ale)
1 28-ounce can whole tomatoes
1 cup unsalted chicken broth
1 15-ounce can black beans, drained and rinsed
1 15-ounce can kidney beans, drained and
rinsed
1 sweet potato (peeled and cut in 'Öì-inch dice)
Cooked orzo (optional)
Grated white cheddar cheese (optional)
Instructions
Heat a 5-quart Dutch oven over medium high heat. Add the oil and meat to the pan and cook, breaking up the meat with a wooden spoon, until the meat is cooked and beginning to brown.
Reduce the heat to medium and add the onion, carrots, celery, garlic, pepper, and jalapeno to the pan. Cook, stirring often with a wooden spoon, for about 4 minutes or until the vegetables begin to soften.
Stir in the cumin, chili powder, salt, chipotle, and adobo. Cook for an additional minute to toast the spices. Deglaze the pan with the beer and simmer until the liquid is reduced and almost completely evaporated, about 3 minutes. Add the tomatoes and chicken broth and stir to combine, breaking up the tomatoes with the back of the spoon.
Stir in the beans and sweet potato and bring to a simmer. Reduce the heat to medium low to maintain a simmer and cover with a lid. Simmer the chili for 20 minutes, then uncover the pan and simmer until slightly thickened, about 15 minutes longer. Served over orzo and/or topped with cheddar cheese if desired.