Roasted Eggplant and Almond Dip
You must be signed in to print this content
Roasted Eggplant and Almond Dip
Author:
Giada De Laurentiis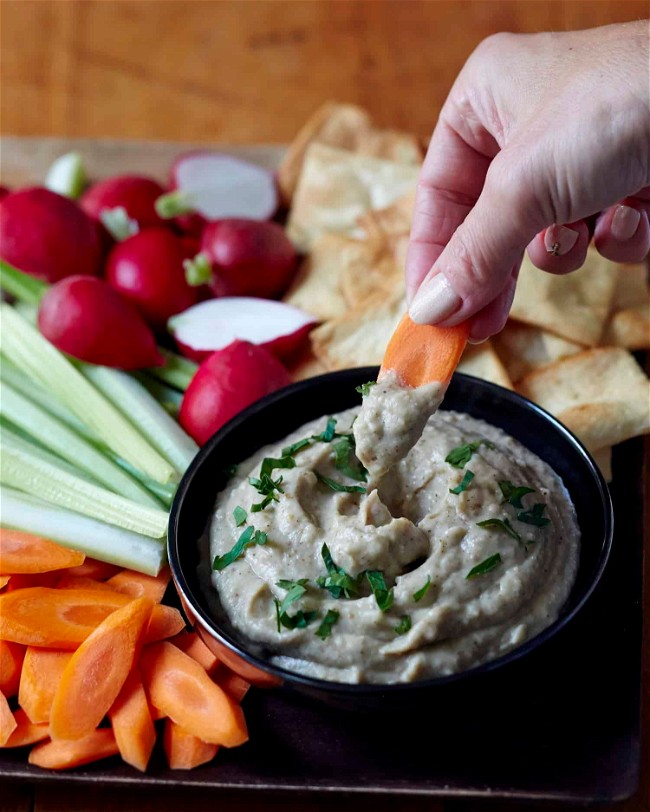 Ingredients
1 1 1/2 pound globe eggplant
1 head garlic
1 tablespoon extra-virgin olive oil
3/4 teaspoon kosher salt (divided)
2 tablespoons unsweetened almond butter
1 teaspoon lemon zest (from 1 lemon)
2 teaspoons lemon juice (from 1/2 lemon)
1 tablespoon chopped Italian parsley
Pita chips or crudite for dipping
Instructions
Preheat the oven to 350°F. Pierce the
eggplant all over with the tip of a paring
knife and place on a rimmed baking sheet.
Cut off the top 1/3 of the head of garlic and
place on a sheet of aluminum foil large
enough to enclose it. Drizzle the garlic with
the olive oil and sprinkle with 1/4 teaspoon of
the salt.
Bring the foil up and round the garlic and
crimp to seal. Place the package on the tray
with the eggplant and bake for 45 minutes.
After 45 minutes, remove the garlic from the
oven and bake the eggplant an additional 30
minutes or until very soft and slightly
deflated. Allow the eggplant to cool slightly.
Squeeze the roasted garlic into the bowl of
a food processor. Cut the eggplant in half
and use a large spoon to scrape out all of
the flesh, leaving the skin behind. Add the
flesh to the food processor along with the
almond butter, lemon zest, lemon juice, and
remaining salt. Puree on high for 2 minutes
until the mixture is smooth and silky.
Place in an airtight container and chill
completely. Serve cold, sprinkled with the
parsley, along with pita chips or crudite for
dipping.