Pasta With Fried Zucchini Sauce
You must be signed in to print this content
Pasta With Fried Zucchini Sauce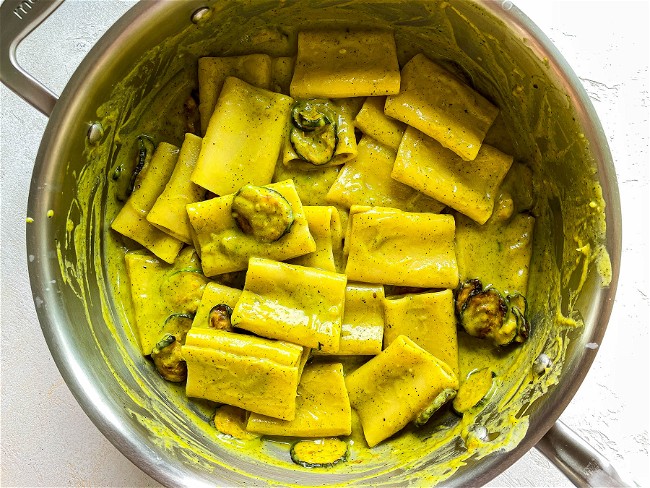 Ingredients
1½ pounds (680 grams; about 4 small) zucchini, sliced into thin coins

1¾ ounces (50 grams) finely grated provolone piccante
1¾ ounces (50 grams) finely grated caciocavallo
1¾ ounces (50 grams) finely grated Parmigiano-Reggiano
2 large garlic cloves, peeled and crushed
Kosher salt and freshly ground black pepper
2 tablespoons (30 grams) cold unsalted butter
Torn or sliced fresh basil leaves, for serving
Instructions
Spread the zucchini slices across a paper towel–lined sheet pan and pat dry. Mix the grated cheeses together in a small bowl.

In a large nonstick sauté pan, heat the oil over medium-high. Add the garlic and fry, stirring often, until tinged gold around the edges, about 2 minutes. Remove the garlic from the pan and set aside.
Arrange half of the zucchini slices in the pan and fry, flipping occasionally, until tender and some of the pieces start to caramelize, 5 to 7 minutes (you're not looking for crispy here). Turn down the heat if the zucchini brown too quickly.
Transfer the zucchini to a paper towel–lined plate and season liberally with salt and pepper. Add another splash of oil to the pan and repeat with the remaining slices. Turn off the heat and let the pan cool slightly, then drain off the excess oil and set the pan aside.
Add the reserved garlic and half of the fried zucchini slices to a blender or food processor and purée until smooth.
Cook your pasta of choice until just shy of your liking. While the pasta cooks, return the pan used to fry the zucchini to medium heat. Add the zucchini purée and remaining fried slices, along with 1⁄2 cup (120 ml) pasta cooking water. Bring to a bare simmer and season to taste. Transfer the pasta directly to the sauce (or drain it first and reserve 1 cup (240 ml) pasta cooking water) and toss until well coated, adding more cooking water to loosen as needed. Turn off the heat. Stir in the butter and three-quarters of the cheeses, one handful at a time, reserving the rest for serving. Mix vigorously until melted and emulsified, adding more cooking water as needed.
Divide the pasta among bowls and serve, topped with the basil, remaining grated cheese, and lots of black pepper.