Mini Linguine and Prosciutto Frittatas
You must be signed in to print this content
Mini Linguine and Prosciutto Frittatas
Author:
Giada De Laurentiis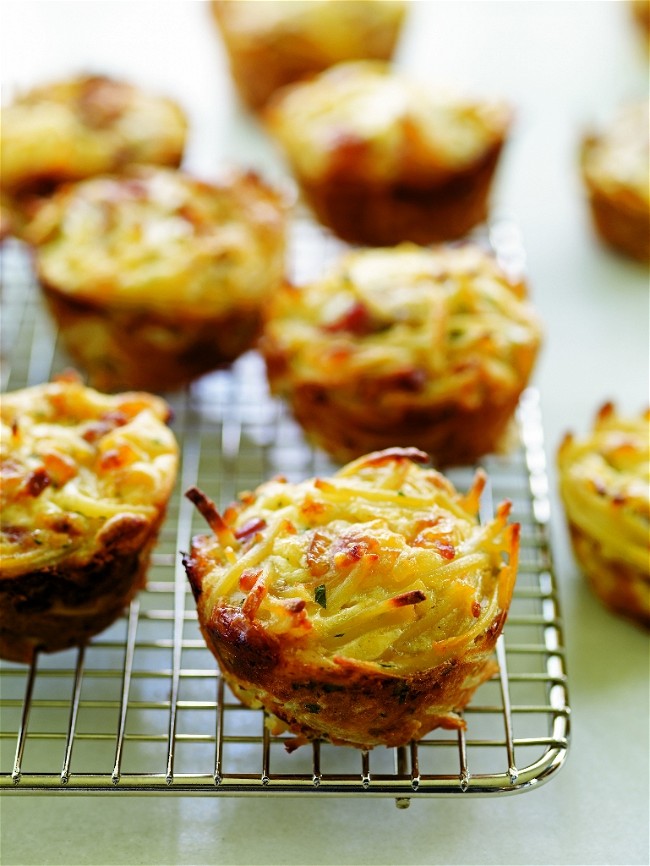 Ingredients
½ pound linguine
7 large eggs
½ cup milk
¼ heavy cream
½ cup mascarpone cheese
6 ounces diced prosciutto
5 ounces smoked mozzarella cheese (diced (1 cup diced))
½ cup freshly grated Asiago cheese
¼ cup finely chopped fresh flat-leaf parsley
2 garlic cloves (minced)
1 teaspoon salt
3/4 teaspoon freshly ground black pepper
1/8 teaspoon freshly grated nutmeg
Instructions
Bring a large pot of salted water to a boil over high heat. Add the pasta and cook until tender but still firm to the bite, stirring occasionally, 8 to 10 minutes. Drain the pasta in a colander. While the pasta is still in the colander, use kitchen shears to cut the linguine into smaller pieces. The pasta should measure about 3 cups.
Preheat the oven to 375°F. Grease a 12-cup muffin tin.
In a blender, combine the eggs, milk, cream, and mascarpone. Blend until well combined. Transfer the mixture to a large bowl and add the cut pasta, the prosciutto, mozzarella, Asiago, parsley, garlic, salt, pepper, and nutmeg. Stir until the ingredients are combined.
Fill each of the muffin cups with about 1/3 cup of the mixture, both the pasta and the liquid should fill the cup almost to the top. Bake until firm and cooked through, 30 to 35 minutes. Let the frittatas cool for 3 minutes before removing from the tin. Arrange on a serving platter or place 2 on each of 6 individual plates and serve.
Nutrition
Amount/Serving
% Daily Value
Carbs

15 grams

Protein

23 grams

Fat

33 grams

Saturated Fat

16 grams

Cholesterol

255 milligrams

Sodium

951 milligrams

Fiber

1 grams

Sugar

2 grams