Fusilli with Sun-Dried Tomato Vinaigrette
Fusilli with Sun-Dried Tomato Vinaigrette
Author:
Giada De Laurentiis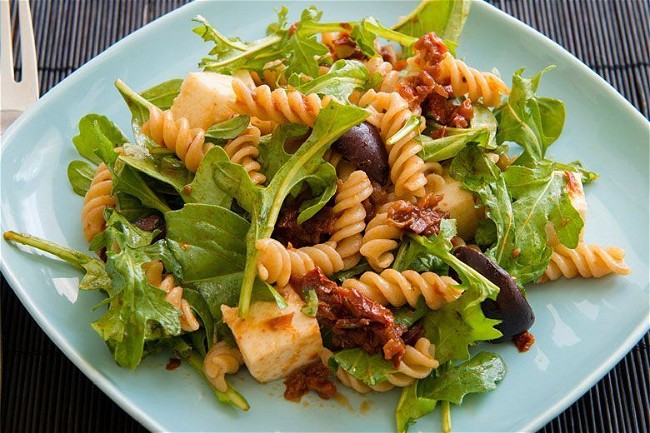 Ingredients
For The Vinaigrette:

1/2 cup sun-dried tomatoes
1/4 cup fresh-squeezed orange juice (about 1 medium orange)
3 tablespoons extra-virgin olive oil
1 tablespoon apple cider vinegar
1/2 teaspoon salt
1/4 teaspoon freshly ground black pepper

Assembly:

Salt
One 8-ounce package gluten-free ancient grain fusilli pasta (such as TruRoots)
3 cups chopped baby arugula
3/4 cup pitted Kalamata olives (chopped)
1/2 cup packed fresh basil leaves (chopped)
7 ounces fresh mozzarella (cut into 1/3-inch dice)
Instructions
For the vinaigrette: Place the sun-dried tomatoes in a food processor and pulse to chop. Add the orange juice, olive oil, vinegar, salt and pepper. Process to a slightly chunky, relatively thick puree.
To assemble: In a large pot of boiling salted water, cook the pasta according to package directions. Drain and rinse in cold water.
In a large bowl, toss the cooked pasta together with the arugula, olives, basil, mozzarella and the vinaigrette. Serve.