You must be signed in to print this content
Category
dinner main pasta
Author:
Giada De Laurentiis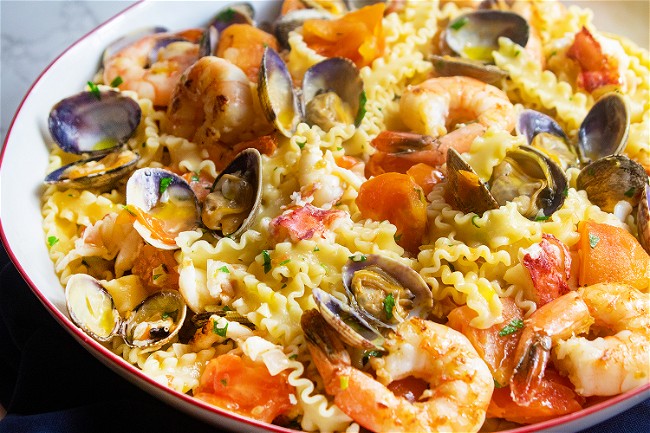 Ingredients
For The Chili Oil:

1 tablespoon red chili flakes

For The Spicy Tomato Sauce:

1 pound Campari tomatoes (halved)
1 Anaheim chile pepper (halved and seeded)
1/4 teaspoon kosher salt

For The Seafood Pasta:

2 lobster tails
8 ounces large shrimp (shelled and deveined)
Kosher salt
2 shallots (finely chopped)
1 clove garlic (finely chopped)
1/2 cup white wine
8 ounces clams (scrubbed)
2 tablespoons freshly chopped parsley
1 tablespoon unsalted butter
Zest of 2 lemons
Freshly ground black pepper
Instructions
For the chili oil: Combine the oil and crushed red pepper flakes in a heavy small saucepan. Cook over low heat until a thermometer inserted into the oil registers 180 degrees F, about 5 minutes. Strain the oil into a heatproof container.
For the spicy tomato sauce: Heat a large nonstick grill pan over medium-high heat. Drizzle the tomatoes and chile with 2 teaspoons of the chili oil and sprinkle with the salt. Grill until charred and softened, 4 minutes per side. Transfer the tomatoes to a bowl. Coarsely chop the chile, then add to the bowl with the tomatoes.
For the pasta: Bring a large saucepan filled with salted water to a boil over medium-high heat. Add the lobster tails and cook until the shells turn red and the meat is opaque, 4 minutes. Transfer the tails to a cutting board. Continue to boil the water and add the linguine. Cook until the pasta has begun to soften but is still firm to the bite, stirring occasionally, 6 minutes. Drain, reserving 1/4 cup of the cooking water.
While the pasta is cooking, prepare the seafood. Gently cut through the top of the lobster shells using scissors to remove the tail meat, then slice each tail in half lengthwise. Transfer to a large bowl and add the shrimp. Drizzle over 1 1/2 tablespoons of the chili oil and 1 teaspoon salt and toss to coat.
Heat a large nonstick grill pan over medium-high heat. Grill the lobster tails and shrimp until cooked through, 4 minutes per side. Transfer the shrimp to a large bowl. Chop the lobster into 2-inch pieces and combine with the shrimp.
Heat 2 tablespoons of the chili oil in a large saucepan over medium-high heat. Add the shallots, garlic and 1/2 teaspoon salt and cook, stirring occasionally, until softened, about 4 minutes. Add the spicy tomato sauce and white wine and bring to a boil. Add the clams and cook, covered, until they open, 4 to 6 minutes.
Add the pasta and reserved cooking water to the pan along with the Parmesan and toss to coat. Stir in the parsley, butter, lemon zest and salt and black pepper to taste. Add in the shrimp and lobster and drizzle with the remaining chili oil.
Nutrition
Amount/Serving
% Daily Value
Carbs

63 grams

Protein

20 grams

Fat

25 grams

Saturated Fat

6 grams

Trans Fat

1 grams

Cholesterol

42 milligrams

Sodium

454 milligrams

Fiber

4 grams

Sugar

5 grams

Unsaturated Fat

18 grams