Chocolate Hazelnut Truffles (Baci)
You must be signed in to print this content
Chocolate Hazelnut Truffles
Author:
Giada De Laurentiis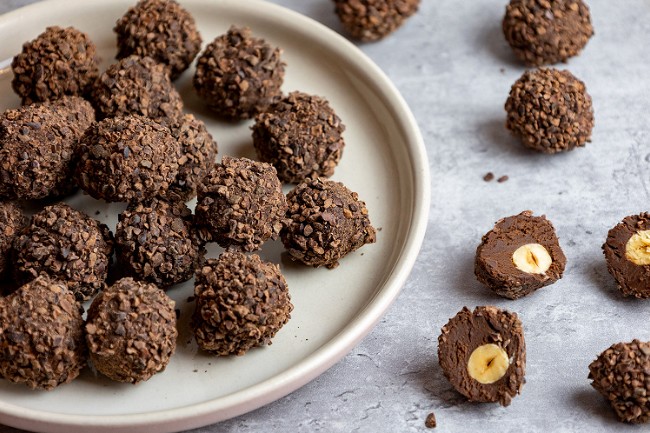 Ingredients
8 ounces 63% chocolate chips (about 1 ⅓ cups)

½ teaspoon instant espresso powder
Pinch of salt
½ cup heavy cream
¼ cup Frangelico hazelnut liqueur
1 cup crushed cocoa nibs
Gold dust (optional)
Instructions
In a medium bowl combine the chocolate chips, espresso powder, and salt. Heat the cream in a small saucepan over medium heat until small bubbles begin to form around the edge of the pan. Pour the hot cream over the chocolate mixture and allow to sit for 2 minutes.
Whisk the softened chocolate together with the warm cream until smooth. Add the liquor and continue whisking until combined and smooth. Place a piece of plastic wrap directly on the ganache and refrigerate for at least 2 hours.
Using a 1 tablespoon scooper, scoop the ganache into balls. Push a hazelnut into the center of each ball and roll in the nibs. Store in the refrigerator until ready to serve. Sprinkle with gold dust, if desired.