Chicken Marsala Meatballs
You must be signed in to print this content
Chicken Marsala Meatballs
Author:
Giada De Laurentiis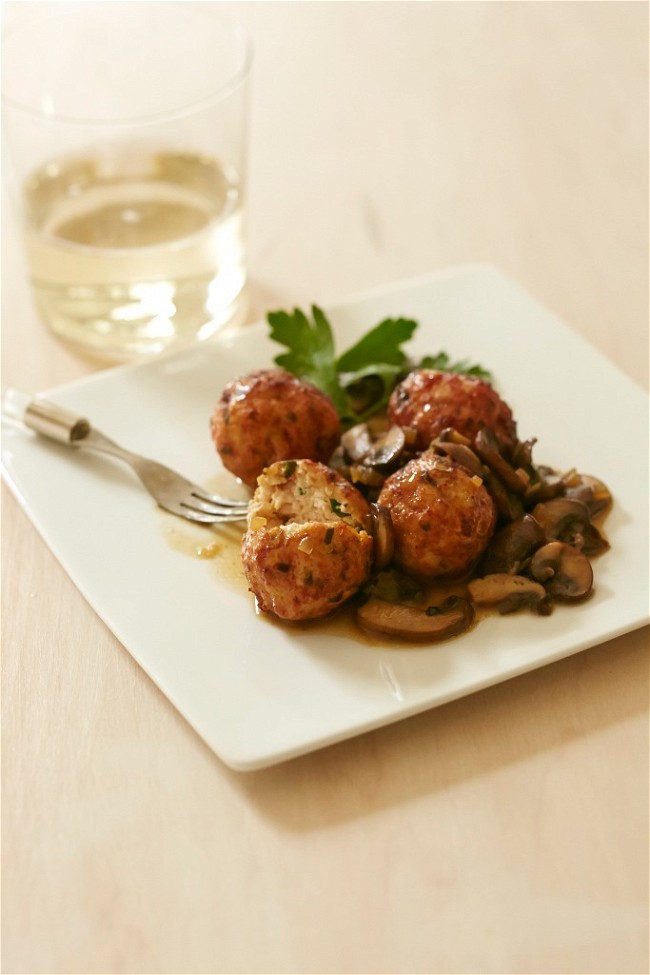 Ingredients
1/4 cup panko bread crumbs
2 tablespoons milk (at room temperature)
1/3 cup plus 1 tablespoon marsala wine (divided)
1 pound ground white meat chicken
1/4 cup grated pecorino cheese (plus more for serving)
1 large egg (beaten)
2 tablespoons fresh parsley (chopped)
1 teaspoon kosher salt (divided)
1/8 teaspoon freshly ground black pepper
2 tablespoons extra-virgin olive oil (divided, plus more for frying)
8 ounces cremini mushrooms (sliced)
1 large shallot (minced)
1 1/2 teaspoons flour
1 1/4 cups low-sodium chicken broth
Instructions
In a large bowl, mix together the bread crumbs, milk, and 1 tablespoon wine. Allow this mixture to soak for 5 minutes. Add the chicken, pecorino, egg, parsley, ½ teaspoon of the salt, and the pepper. Using your hands, gently mix together the ingredients until just combined (see Cook's Note). Refrigerate for at least 2 hours or overnight.
In a medium, straight-sided skillet, add enough olive oil to come 1 inch up the side of the pan. Using a deep-fry thermometer, heat the oil to 350°F.
Working quickly, scoop the mixture into balls, using 2 tablespoons per ball, and gently drop them directly into the hot oil. The meatballs will better retain their shape the colder they are. Fry the balls, rotating often, until they are golden brown all the way around. They will continue to cook when added to the sauce later. Remove to a paper towel–lined tray and set aside.
In another straight-sided skillet, heat 1 tablespoon olive oil over medium-high heat. Add the mushrooms and cook, stirring often with a wooden spoon, until the mushrooms are brown on all sides, about 5 minutes. Add the shallots and remaining ½ teaspoon salt and cook for another 2 minutes.
Reduce the heat to medium and stir in the flour and remaining tablespoon of olive oil to form a paste. Add the 1/3 cup wine and stir until the mixture is smooth. Whisk in the chicken stock and simmer for about 5 minutes.
Add the meatballs to the sauce and simmer for an additional 5 minutes to let the flavors blend and to ensure the meatballs are cooked through. Serve warm garnished with grated pecorino cheese.
Cook's Note: If you are struggling to get the balls round, it is helpful to pre-scoop the balls onto a parchment-lined tray and place the tray in the freezer for about 15 minutes. Then quickly re-roll the balls to reshape and place them directly into the heated oil.
Nutrition
Amount/Serving
% Daily Value
Carbs

2 grams

Protein

5 grams

Fat

3 grams

Saturated Fat

1 grams

Trans Fat

1 grams

Cholesterol

25 milligrams

Sodium

134 milligrams

Fiber

1 grams

Sugar

1 grams