Cavatelli with Eggplant and Smoked Mozzarella
You must be signed in to print this content
Cavatelli with Eggplant and Smoked Mozzarella
Author:
Giada De Laurentiis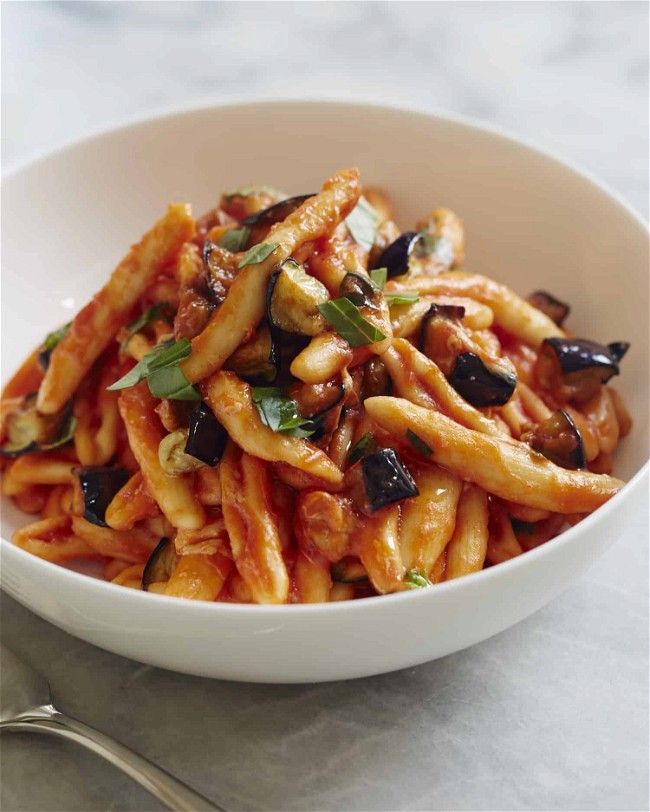 Ingredients
1 1/2 pounds 1 large or 3 small globe eggplant, cut in 1/2-inch dices

1 teaspoon kosher salt (plus 1/4 teaspoon)
2 cups vegetable oil
1 carrot (peeled and cut in half)
1 small red onion (peeled and cut in half)
1 3- inch piece of Parmesan rind

5 basil sprigs (plus 1/4 cup chopped basil for garnish)

1/2 teaspoon kosher salt
1 cup grated smoked mozzarella or provolone
cheese
Instructions
In a medium bowl, toss the eggplant with 1
teaspoon salt and let it sit for 10 minutes.
Pat the eggplant dry with a paper towel. In
medium saucepan, heat the vegetable oil
over medium-high heat. When the oil is hot
enough that a piece of eggplant begins to
sizzle as soon as it hits the oil, it's ready.
Fry the eggplant in 3 or 4 batches, until
golden brown and cooked through, about 4
minutes per batch. Using a slotted spoon or
a spider, remove the eggplant to a paper
towel lined plate to drain. Sprinkle evenly
with the remaining 1/4 teaspoon salt.
Meanwhile, heat a nonreactive 3 1/2 quart
Dutch oven over medium heat.
Add the olive oil, carrot, and red onion and
sweat just for 1 minute. Add the rind, basil,
and tomato puree to the pan. Stir with a
wooden spoon to mix well. Cover the pan,
reduce the heat to medium-low, and simmer
for 25 minutes, stirring occasionally to
prevent the rind from sticking to the bottom.
Turn off the heat and remove the
vegetables and herbs and discard.
Bring a large pot of salted water to a boil.
Add the pasta and cook for 2 minutes less
than directed on the package, about 10
minutes. Using a spider, scoop the pasta
directly from the water into the sauce.
Turn the heat back on to medium-low and
add 1/4 cup of the pasta cooking water and
the grated cheese. Stir constantly until the
sauce is creamy and the pasta is cooked
through, adding pasta water by the 1/4 cup
as needed to cook the pasta through and maintain a sauce. Stir in the eggplant and
warm through. Serve sprinkled with the
chopped basil.
Nutrition
Nutrition
Nutrition Serving Size

6

per serving

Calories
1135
Amount/Serving
% Daily Value
Carbs

75 grams

Protein

19 grams

Fat

86 grams

Saturated Fat

9 grams

Cholestrol

18 milligrams

Sodium

878 milligrams

Fiber

9 grams

Sugar

13 grams

Trans Fat

1 grams