Chicken Piccata Meatballs
You must be signed in to print this content
Chicken Piccata Meatballs
Servings
22 servings (22 meatballs)
Author:
Giada De Laurentiis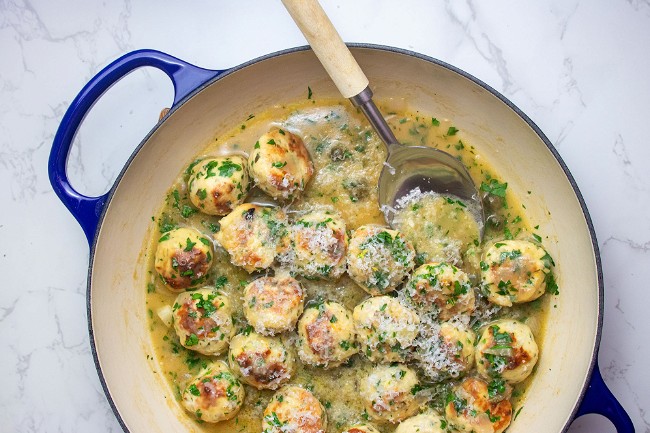 Ingredients
For The Meatballs:

1/2 cup torn, soft white bread, crust removed
2 tablespoons whole milk
1 large egg
1 shallot, finely chopped
1 teaspoon grated lemon zest, from 1 lemon
1/2 teaspoon kosher salt
2 tablespoons chopped Italian parsley
1 pound ground chicken

For The Sauce:

1 shallot, chopped
1/2 teaspoon kosher salt
2 1/2 teaspoons all purpose flour
1 1/2 cups low sodium chicken broth
2 tablespoons freshly squeezed lemon juice, from 1/2 a lemon
2 tablespoons capers, drained
2 tablespoons chopped Italian parsley
Freshly grated Parmigiano Reggiano cheese, to serve

*Chef's note: If using salt-packed capers, rinse them thoroughly before using. If using brined capers, drain and rinse.
Instructions
Preheat the broiler to high and position a rack in the top third of the oven. Drizzle a straight sided baking sheet with 2 teaspoons oil and set aside.
In a medium bowl combine the torn white bread, milk, parmesan cheese and egg. Using a rubber spatula or your fingers, stir together the ingredients to evenly coat the bread in the milk and egg and mash it slightly to form a paste. Allow the mixture to sit for 5 minutes. Add the shallot, capers, lemon zest, salt and parsley to the bowl and stir to combine. Add the chicken. Using your hands gently mix the ingredients until just combined. Using damp hands, form the mixture into 1 1/2 tablespoon size balls and place them on the prepared baking sheet. Broil the meatballs until golden brown, about 7 minutes. Set aside.
Meanwhile, heat a medium straight sided skillet over medium heat. Add the olive oil and heat until the oil moves freely, about 30 seconds longer. Add the shallots and the salt and cook, stirring often until fragrant, about 1 minute. Sprinkle in the flour and whisk until smooth. While whisking, add the chicken broth and lemon juice and stir until smooth. Bring to a simmer and reduce the heat to maintain a gentle simmer. Stir in the capers and allow the sauce to simmer for 5 minutes. Add the meatballs to the sauce and stir to coat them in the sauce. Cover the pan with a lid and allow the meatballs to simmer in the sauce for another 5 minutes. Stir in the parsley. Serve with more freshly grated parmesan if desired.
Nutrition
Nutrition
Nutrition Serving Size

22 servings (22 meatballs)
Amount/Serving
% Daily Value
Fat

4.3 grams
7%

Saturated Fat

1.3 grams
7%

Trans Fat

0 grams

Cholesterol

31 milligrams
10%

Sodium

135.4 milligrams
6%

Carbs

2.2 grams
1%

Fiber

0.3 grams
1%

Sugar

0.7 grams

Protein

6 grams
12%