You must be signed in to print this content
Author:
Giada De Laurentiis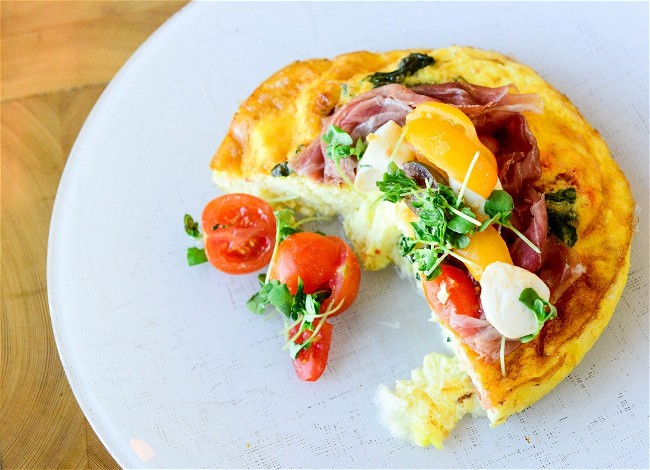 Ingredients
1 cup cherry tomatoes (sliced into rounds)
1/2 teaspoon kosher salt
7 large eggs (at room temperature)
1/4 cup heavy cream (at room temperature)
1/2 cup basil leaves (roughly chopped)
1/2 cup diced mozzarella cheese
4 thin slices Prosciutto di Parma (optional)
8 cherry tomatoes (halved, optional)
1/4 cup micro basil (optional)
Instructions
Preheat the broiler to high and place the oven rack in the middle of the oven.
Heat an 8 inch oven proof, nonstick skillet over medium heat. Add the olive oil and the tomatoes . Season with 1/4 teaspoon salt and cook the tomatoes until they are soft and beginning to fall apart, about 4 minutes.
Meanwhile, whisk the eggs together in a large bowl. Add the heavy cream, basil and remaining 1/4 teaspoon salt and whisk together until smooth and light. Pour the egg mixture over the tomatoes, sprinkle with the mozzarella and let it cook for 2 minutes. Using a rubber spatula, begin to loosen the cooked eggs from the sides and bottom of the pan to allow the raw egg to coat the bottom of the pan. Let it sit for another minute and repeat. Place the whole pan under the broiler and cook for 5 to 6 minutes or until the eggs are just set. Slide the frittata out of the pan and onto a board. Drape with the prosciutto slices and sprinkle with the tomatoes and micro basil if using. Slice and serve.
Nutrition
Amount/Serving
% Daily Value
Carbs

4 grams

Protein

15 grams

Fat

26 grams

Saturated Fat

10 grams

Trans Fat

1 grams

Cholesterol

323 milligrams

Sodium

555 milligrams

Fiber

1 grams

Sugar

2 grams