Eggplant Caponata: Not *Just* Italy's Version Of Ratatouille
You must be signed in to print this content
Eggplant Caponata is often referred to as Italy's take on the French Ratatouille - but it's so much more.
This southern Italian dish of Sicilian origin is steeped in culinary tradition and history. Similar to ratatouille, it's comprised mainly of cooked-down summer veggies to become a luxuriously silky condiment - but caponata has a few qualities that make it very unique.
The origins of caponata are so contested, even the name itself is not reliably known. Some believe that the name comes from ancient Sicilian term
capone, 
meaning mahi-mahi - a fish often paired with the dish. Others believe it comes from the Spanish "capirotada," meaning a dish that is comprised of many ingredients. Even the origin of the dish itself is ambiguous. The name of the dish first appeared in writing in the 1700s, and it was described as "a dish made up of various things" - not exactly specific!
It is unsurprising, however, that the recipe's history and traditional ingredients are left so vague. Even today, eggplant caponata is very versatile both in the way it is prepared 
and 
how it can be served. The recipe will vary greatly spanning Italy, and it can be eaten in a multitude of ways.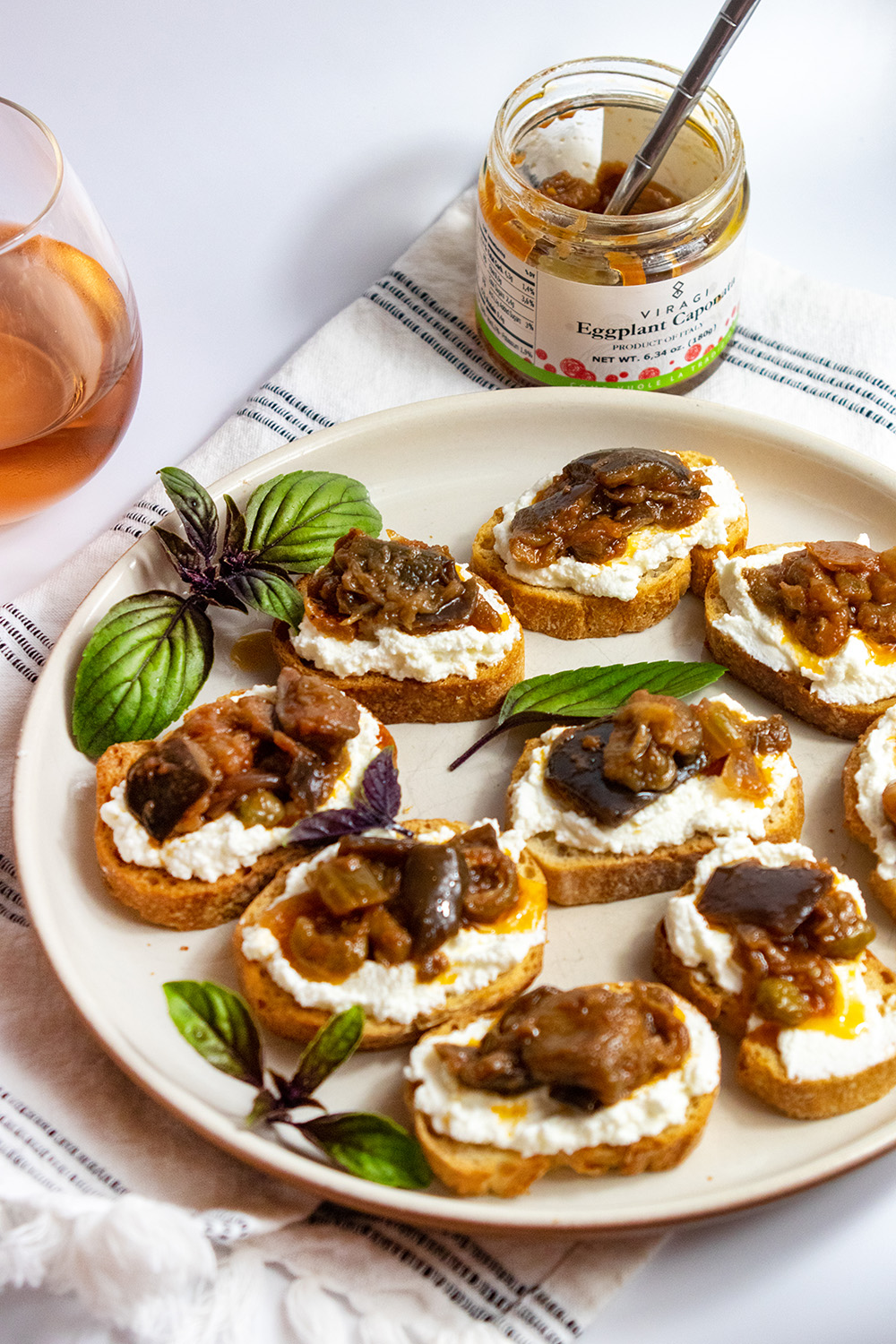 Viragi Eggplant Caponata From Sicily
Eggplant caponata, of course, always features eggplant - but the rest of the included vegetables will differ from region to region and family to family. Common ingredients are onion, celery, tomatoes, bell pepper, garlic, olives and capers. The other constant in caponata recipes is the
agrodolce - Italian sweet and sour sauce
. Caponata always has vinegar to give it a tangy quality, and often a touch of sugar (or extra tomatoes and sweet ingredients to hit the sweet notes). The result is a dish that has a velvety and unctuous texture, with a delicious balance of sweet and tangy.
With such a wide range of possible ingredients, the way caponata can be served varies greatly as well. It is always delicious served up as antipasti or a snack at aperitivo hour with some crusty bread and white wine, or as an accoutrement to a snacking board. However, it can also be served alongside seafood and other proteins, as a snack spread, or less traditionally (but still deliciously) tossed with pasta or as a pizza sauce.
Get started with Giada's traditional Sicilian eggplant caponata recipe below, or the light and fresh caponata Pugliese from Puglia.
Or grab a jar from our shop straight from Sicily
for a taste of the truly authentic caponata!